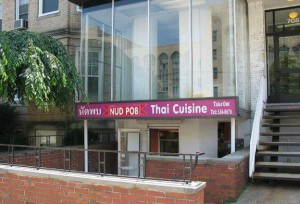 Seriously, where is Nud Pob? The campus Thai dive has been closed for friggin' ever, and although it's supposedly relocating to the space that STA Travel used to inhabit at 738 Commonwealth Avenue, little has been seen or heard of the eatery since it closed last February. The kitchen's closure has left a gaping hole in campus pre-party dining (the Pob was open until 10:30), and frankly, I'm sick and tired of paying $10 every time I want Pad Thai, instead of the usual $6.30.
Upon calling the closed establishment's phone number, I was greeted simply with "Thai Food!" I assumed that this call was fielded by an employee at sister restaurant Pad Thai Cafe on 1116 Boylston St., and when I asked when Nud Pob would reopen, the answer was "maybe next year." Maybe next year? Next year?! How many children are going to be born without the convenience of $6.30 Pud Thai, how many times will the elevator break in StuVi 2, and how many "Weekend Update Thursdays" will I be forced to sit through while waiting for The Office and 30 Rock before Nub Pob reemerges from its shadowy hibernation?
In the mean time, there's Noodle St. at 617 Commonwealth Ave., but their entrees are more expensive and their drunken noodles far superior to their at best okay Pad Thai.
All of this comes after the closing of Despina's at 47 Mass Ave, which routinely saw lines out the door as late as a 3AM, Z Square at 580 Comm. Ave., and the realization that T. Anthony's is at best the equivalent of re-heated Lunchables pizza.
So where do you go to satisfy your post-dining hall closure cravings, specifically of the Thai variety?