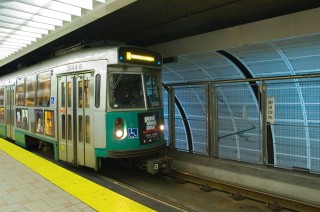 OK everyone, I had hoped that the etiquette issues would have stopped with walking down the street. However, much to my dismay, it seems that riding the T AND being aware of other people simultaneously is next to impossible.  As an off campus student, every morning and every afternoon I have the pleasure of riding the steel love boat that we refer to as the T. Typically my short ride is fairly pleasant, but it seems that there are always one or two people who have to ruin the ride for everyone. Why is it that we get into a confined, steel space, packed in with other people like sardines, and still cannot possibly fathom that our actions are affecting others? What good will our higher education do for us if we lack the all important common sense factor? The rules that should be applied for riding the T are simple. Follow them and your trip and the trip of your fellow travelers will be ten thousand times more pleasant.
1. Turn Down the Volume:
Seriously people, nobody wants to listen to your music, and if your iTunes library looks anything like mine, you really don't want people to be aware of the crap that is spewing from your head phones. There is nothing more irritating when you are on the T than the background noise of someone's iPod invading your personal thoughts.
2. Call this rule Turn Down the Volume part two. Yes, it is about volume, but this time it has nothing to do with machinery. When you are riding the T with your friend(s) you are typically standing next to one another. To the civilized human being, this instantly negates the need to YELL to each other. Apparently, college students on the B line don't fit into the civilized human category as much as we all would have hoped. It's rather sad. Just don't yell on the T. Think indoor voice.
3. This is on my favorite: KEEP IT IN YOUR PANTS ON THE T.
In my three years at BU I have been truly amazed by the amount of people that I have seen sucking each other's faces off on the damn T. Now, if you have just had a chance encounter with the planet's hottest model and they want you, this rule does not apply. However, I have seen people making out on the T and none of them are hot enough to even come close to the required level of attractiveness. No one that you would have to ride the T with is so ridiculously hot that you cannot possibly wait to make out until you are in the privacy of your own home or at least in a dark corner somewhere, so don't do it. Your face-slurping is unpleasant to the eyes and the ears.
4. Avoid Running Into People AND Their Bags:
This is the thing that gripes me the most while I am on my Bostonian Public Transportation Adventures. No matter how I hold it or what size it is, my purse gets run into like  the finish line tape at the marathon. IS THIS REALLY NECESSARY? At first I thought it was me so I changed the size of my purse and how I was holding it, but nada. People ran into that thing like there was some kind of person magnet sewn into the lining. And apparently, people feel that when they run into your bag, they are hitting an inanimate object, so they don't have to apologize. THEY DO. Please people, try to avoid other people's bags, and if it;s totally impossible, throwing out a quick 'sorry' will probably make you their new knight in shining armor.
5. Don't bring luggage on the T:
I thought this would be common sense also, but apparently my idea of common sense is totally skewed. If you are traveling, don't bring your luggage on the T. A weekend duffle bag is fine, just be aware that it is there and attached to your body. Those of you who go to the airport for winter  break on the T, I personally want to punch every single one of you in the face. If you have to catch a flight, just pay $50 dollars its costs to take a cab. Getting you plus your dead body-sized bag on and off the T is unplesant for everyone around you. Just don't do it.