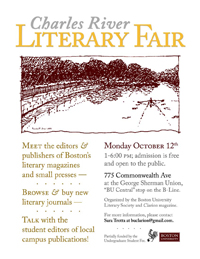 In the GSU alley from 1-6 on Monday 12th, 2009, publications from around the Boston area congregated to hold the Charles River Literary Fair. With more than 20 publications in the room, the information was astounding: flyer after flyer accumulated in my arms as I strolled slowly from table to table speaking with editors and interns. Unfortunately, the student turn-out seemed to be small, at least in the hour that I was there, but I found the information vital for any BU student looking to get published and get heard.
The first thing to catch my eye was the Tuesday Journal table. This journal consists of poems and pictures on unbound postcard-sized paper packaged in a thick colored paper shell; you actually have to unwrap it and pull out the cards individually. The originality of the magazine is only furthered by the poems and photographs found within its "cards". The whole thing is put together by one editor and one intern, who individually wrap these tiny packages of creativity and distribute them for ten dollars a pop. Amazing, right?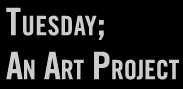 And this was only the beginning.
At The Smart Set table, I met Kristen Hoggatt, the creator and columnist of "Ask a Poet". This column allows you to submit real life problems and get advice from quoted lines of famous poets. The column applies poetry to our everyday concerns, bringing us closer to the words on the page. Kristin said, "Sometimes it's funny, sometimes it's sad. It's very heartfelt."
Next I found Wild Apples, which the editor describes as a journal of nature, art, and inquiry. This journal combines poems and art (especially sculpture) into one common source. The magazine has recently started incorporating loose themes for each issue, like the past issue's theme of soil. The editor invited visitors to the magazine's launch on November 8th at the DeCordova Museum in Lincoln, Mass. There, the journal will take on a life-size form, combing the sculptural exhibit of a local New England artist and readings from editors and contributors to the magazine.
Colleges around Boston made appearances as well. PostRoads, a journal based out of BC but open to all submissions, boasted a cover done by a member of the band Devo. Emerson and MIT were also represented with their creative journals Redivider and Rune (respectively). The Rune collects submissions from outside MIT and around Boston (though told me they often get submissions from Illinois for some reason), and supplies it to the student population. Likewise, the Redivider takes submissions from anywhere and everywhere. They also offered a palindrome contest, which proved highly popular.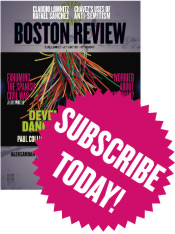 On the other side of the writing spectrum, Boston Review called for forums and analytical writing. The magazine serves as a backdrop for constructive conversation on key topics, and allows students to be involved in critical discussion. They also boast well-known editors, who "see people with talent early on", referring to their fiction and poetry submissions. Similarly, Back Bay Review opens up it's pages to Boston area criticism. Moving into the online playing field with monthly features, the magazine "wants to raise awareness about the area" says editor Jenna Dee (CAS '11). She also mentions that the magazine is expanding to include more than literature. Dee said that the publication's goal is, "to gear it towards what people want, as long as it's academic and local to the Boston area"
The Pen & Anvil Press alone spanned several tables, offering three different publications: 66 for sonnets, Hawk and Whippoorwill for nature poems, and The Charles River Journal for general poetry and fiction. They also extended invites to free and public poetry workshops at 7pm on Friday nights at the Panera in the Landmark Center by Fenway. You can RSVP for this and other programs here.
There were many other services offered at the fair beyond publishing opportunities. One table presented a six-week online workshop by Tom Daley to prepare poems for publication. Another had short story and poetry readings with the Dire Literary Series on Nov. 6th hosted by Timothy Gager, and a Writers Festival on Nov. 14th in Somerville.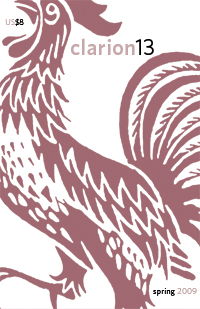 Holding up the rear was a string of BU publications. The well-known Clarion, the lesser-known Burn, and the bilingual Pusteblume. I spoke with the editor-in-chief of Clarion, Sara Trotta (CAS '10), about the BU publications. She mentioned Burn is being revived after two years as a semester publication for solely BU submissions. Clarion, on the other hand, has recently become open to outside submissions. "It's our newest development," Trotta said. "Our goal is to reach a wider literary scene, and grow into more than just a college literary magazine. We want to prepare our staff for small publications in the real world." Trotta added that this expansion makes the publication larger and allows for a greater variety of voices.
Overall, the fair opened its door to readers and writers of all types from all over the country. The diversity of topics and types of publications made for an informative hour and tired arms stacked with flyers and free swag. It only proved that there is a lot of talent out there, much of it still waiting to be heard.
So get writing, aspiring authors!