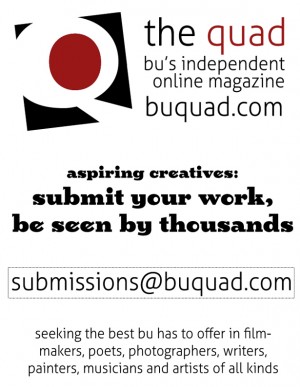 We know BU has a ton of talent, but we haven't received any creative submissions for this issue that we think stack up with the ones we've featured in the past . We'd still like to have one or two submissions in our next issue, which unfortunately comes out really soon (this Monday).
So here's the deal: if you're an aspiring artist, musician, filmmaker, writer, anything really and you'd like to get some exposure, send an e-mail to submissions@buquad.com right now with a piece of work that you'd like featured. If it's good, we'll contact you right away and you'll be up this Monday. Quick turnaround, we know. But we're cool like that.
So get to it. Our past submitters have become instantly rich and famous been on dancing with the stars okay, had their work seen by thousands and received really good feedback, a nice virtual pat on the back, and something to blog about.
We look forward to seeing your efforts.