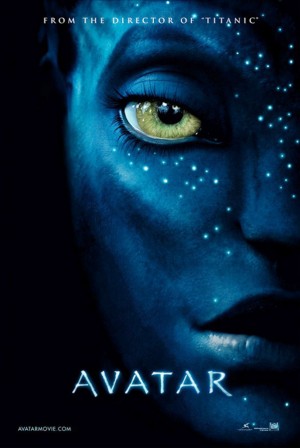 Thanks for clicking on this review today. You could've gone anywhere on the internet for an opinion on Avatar, but you're here with me. I appreciate that.
Still, if you've been following the emerging critical consensus on James Cameron's new space-Marines-vs.-aliens epic then you pretty much already know what I'm going to say. Yes, the visuals are amazing. Yes, the dialogue is awful. The hype surrounding this film has been so aggressive and omnipresent that you've probably already decided whether or not to buy a ticket regardless of anything I say.
But you're apparently still reading, so I'll elaborate.
The special effects are indeed breathtaking. Pandora, the alien planet on which the movie takes place, is a fully realized fantasy landscape of lush jungles, mist-enshrouded floating mountains and colorful sunsets. If that all sounds a little too feminine for you, there are also the action sequences, which are well-choreographed and engaging but, to Cameron's credit, used sparingly enough that the viewer doesn't get numb to them. The CGI is still too shiny and clean to look real, per se (as the intermittent use of live actors jarringly reminded me), but the world it's used to create is credibly real on its own terms.
As for the 3D, I still have trouble seeing the effect as anything more than an added bonus which audiences will eventually get sick of paying for. Cinematographers have always used lighting and focus to create the illusion of depth, and Avatar in particular would look great in two dimensions. Nevertheless, there may never be another film which applies 3D technology to such beautiful imagery.
And then there's everything else.
To be fair, the movie's basic story is intriguing, if derivative: In the 22nd century, a crippled ex-Marine named Jake Sully (Sam Worthington) has his consciousness transferred into an alien body so that he can infiltrate a group of extraterrestrial, cat-like humanoids called the Na'vi, whose community is sitting on top of a valuable reserve of natural resources. Yeah, it's basically Dances with Wolves meets Aliens, but still, there's potential there. And the film could be forgiven for occasionally coming off as campy; that's a risk any sci-fi production has to take.
But the dialogue. Ohh, the dialogue.
"Good observation is good science." "I didn't sign up for this." "The words are like stones in my heart." Indeed. Every line is so clichéd and melodramatic that it would sound right at home in Team America: World Police. At one point I literally had to bite my tongue to keep from bursting into laughter; I just couldn't take it anymore.
The acting is equally bad, even taking into account the quality of the material. Worthington's attempt at an American accent is particularly horrendous. This just proves what the Star Wars prequels should have taught us a long time ago: Actors have a tough time being convincing in front of a blue screen.
Again, though, there are plenty of sequences that basically eschew live actors and dialogue by focusing on Jake's training as a Na'vi, or on the Na'vi's battles with the human invaders, and these scenes are as impressive as the wordless opening half-hour of Wall-E. If you're just looking for colorful sci-fi spectacle, Avatar's got that in spades.
The only question now is whether or not it'll earn back its investment, and what effect its success or failure will have in the movie industry. This New York Times article offers a clue, saying that the money Avatar's midnight screenings pulled in was "on a par with movies that are not built around pre-existing brands. But it falls short of expectations for such a buzzed-about picture…"
Got that? From Hollywood's perspective, Avatar (again, Dances with Wolves meets Aliens) might fail because it's too original.
God help us all.