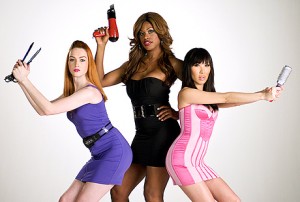 We've all seen those ridiculous makeover shows where perfectly manicured stylists educate the less fashionable by telling them not to wear grungy, oversized tee shirts, make their little makeover project cry because they've "never felt this beautiful before," and make the audience laugh with snappy remarks about glitter eyeshadow.
"TRANSform Me" is VH1's attempt to put their own fresh spin on that overdone makeover show.
But what makes this show different? No, the "Flavor of Love" girls are not directing the makeovers and the "Tool Academy" kids are (unfortunately) not the makeover candidates. The twist is that glam squad consists of three transgender women: Laverne Cox, the main host with pillowy, lacquered lips and a huge weave who specializes in "heart-to-hearts" (aka making girls cry), Jamie Clayton, the quirky redhead who acts as makeup guru, and Nina Poon, who rounds out the trio by acting as the closet-raider.
Armed with blowdryers and flat irons, the glamazons ride around in the glam-bulance (glamorous ambulance?) answering beauty "911 calls" of overplucked eyebrows and baggy sweatpants. In the premiere episode of the 8-episode miniseries, the ladies tackle the challenge of prepping the newly slender Nicole for a girls' night out.
Frankly, the more interesting story than Nicole getting highlights and being tutored in the art of  "serving it" would be the background stories of the three self-proclaimed "gorgeous visions of feminine beauty." However, their backgrounds are vaguely brushed over through childhood pictures to leave room for cliché remarks like "OMG Ladies! Nicole lost all that weight and I think she finally found herself!"
To ditch the one-sided glamor of VH1 and see a more candid and honest depiction of the transgender community, check out the truly addicting "TransGeneration" instead. This documentary series that originally aired on the Sundance Channel follows the lives of four transgender college students and allows the viewer to see the unconventional beauty in the transgender community—without the skimpy metallic mini-dresses and 6-inch stilettos.
"TRANSform Me" officially debuts tonight at 10:30 on VH1 but you can watch the premiere episode on VH1.com now.