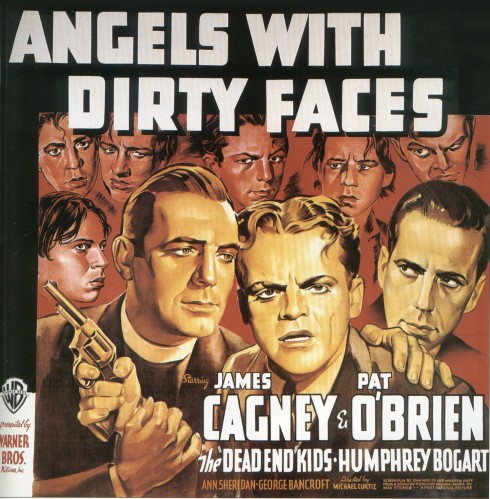 This past summer, "Public Enemies" spiked interest in the forgotten gangster genre and a few "best gangster films" lists arose to pull classics from the depression era. The 1920s were the heyday of the bootleggers and gangsters, who ruled with a loaded Tommy gun and a getaway car. Al Capone and "Bugsy" Siegel provided both headlines for the media and a great source material for Hollywood. By the early '30s, Warner Brother Studios cornered the market and produced some of the greatest films in the gangster genre, including "The Public Enemy," "The Roaring Twenties," and "Little Caesar". These pictures gave America some of its greatest "anti-heroes" actors: Edward G. Robinson, Humphrey Bogart, and one of my favorites, James Cagney. Not to mention the ridiculously fun "gangster speak" that threw around "mugs," "broads," and "yellow-belly rats" all over the dialogue.
So, once again, I have a suggestion to expand your Netfilx queue and woo your history teacher. This week, I recommend "Angels with Dirty Faces," starring James Cagney and Pat O' Brian, and directed by Michael Curtiz. Check out the good old fashioned movie trailer of "Angels with Dirty Faces."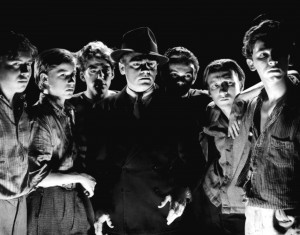 This movie does not start out in the middle of a gunfight or in between a grudge match between two bosses. Instead, the opening scene is that of a rundown slum in the city filled with people and teeming with kids unwanted and with nothing to do. We're introduced to two rascals, "Rocky" Sullivan and Jerry Connolly as they get into mischief and have to run from the "coppers." Sadly, the two friends are forever torn apart as Jerry outruns the police but the tinier "Rocky" could not. Sullivan becomes a regular in the delinquent's row, falls into bad company, and is in and out of jail more times than he can care to acknowledge. Meanwhile, taking his near capture by the police as a sign, Jerry makes the decision to repent and make up for the sins of his childhood and becomes a priest in the local Catholic church on one of the street corners where he used to loiter with his best friend. Once he's out of jail and determined to keep quiet for awhile, Sullivan returns to reunite with his boyhood friend, now an outspoken activists set to clean up the streets that are corrupting and destroying the lives of his young parishioners.
As an enemy but still a friend, Father Jerry seeks to "rehabilitate" Sullivan from his old ways. Can he rescue his friend from an early death or life in prison? Is there even any good left in a crook after so many years of the criminal life?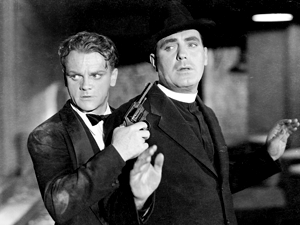 A tug of war in the heart over the pillars of friendship and standing for principles makes this movie one of my favorites. Sure, it has its share of stereotypes: a hard boiled gangster seeking redemption and a caring yet idealistic social activist seeking to stop the circle of suffering and loss. But, the characters are relatable in their struggle to define their friendship after they have changed and chosen different ways of life. There's a little love story too, as Sullivan finds himself a pretty "dame," a volunteer in the church helping to keep the kids off the streets she grew up. Even the street rouges that come in the church's gym to play basketball serve not only as comic relief but also as a reminder of the struggle of seeking a sense of belonging. Unwanted in their own households, the group affectionately known as the "Dead End Kids" seek the comforts of a family in gang life, a life that their priest is worried will cost them their own young lives. Father Jerry's crusade to save his congregation however, leads Sullivan to danger as his former business associates from the underworld become the target of the priest's vendettas. I like that the movie does not clearly distinguish Sullivan's loyalties to either cause. People are much more complicated than the singularly driven cut-out characters that lead many other gangster movies. As dastardly as Sullivan can be, he has a heart, or maybe that's what he wants you to think.
I'd also like to point out a very young, fresh face in the movie, Humphrey Bogart. One of his first roles in Hollywood was to play an associate's of Sullivan's. That's right, Bogart first started out as one of the bad guys before moving to the role of reluctant hero in "Casablanca" and "The African Queen." He's one hell of a supporting actor, staring down the fiery James Cagney and matching his charisma on screen to create some of the most tension-filled conversations. Pat O' Brian, a little known name in today's Hollywood, portrays an excellently calm and cool priest facing the guns of gangsters and the rage of his best friend. Both he and James Cagney were best friends in real life, although as Cagney always pointed out in interviews, he was the quiet one while Pat was the hell-raiser.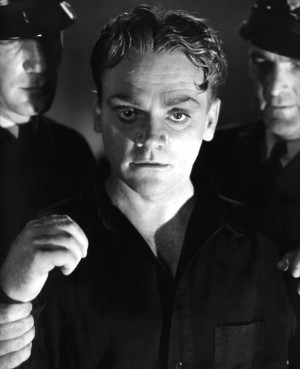 Now would be a great time to introduce what makes the character of "Rocky" Sullivan so impressive: it's James Cagney. Born and raised in the rough neighborhoods of turn of the century New York slum, James Cagney first tried to establish a career in boxing. However, his mom intervened, telling her son he could only go into boxing if he could beat her in a fight. Cagney never tried fighting his mother. Instead he looked for other ways to make money and found vaudeville as the perfect outlet. After years of dancing and acting in the small theater circuits, Cagney found his way to Broadway reviews and then to Hollywood. A few low budget movies later, Cagney became a star with the hit "The Public Enemy." Seven years, multiple contract fights with Warner Brothers, and dozens of roles later, Cagney starred in "Angels with Dirty Faces." After years of playing gangsters, he defied his studio and refused to play anymore gang figures until 1949 in "White Heat," where the famous line "Look ma-Top of the World!" is from. Half of the traits associated with the epitome of a depression era gangster stems from his roles as Tom Powers in "The Public Enemies" or as "Rocky" Sullivan in "Angels with Dirty Faces." This includes Sullivan's phrase, "Whadda ya hear? Whadda ya say?" which appears throughout the movie.
Also, it was brought to my attention that a spoof, "Angels with Filthy Souls," was created for the "Home Alone" movie. You can see the clip here.
Recap: Queue this classic if you're into gangster film, social debates, and "buddy" films. This is a great movie that unfortunately goes under-appreciated as it's pushed out in favor of other classics from the era. Plus, the twist ending has left audiences wondering about the Sullivan character since 1938. Murder, mystery, corruption, and shootouts-the perfect serving size of each pushes "Angels with Dirty Faces" into my top list not just as a gangster film, but one of the greatest of its decade.
What are your favorite gangster flicks?