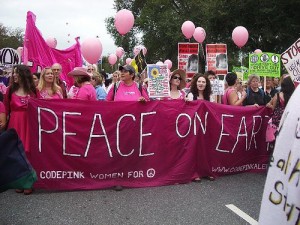 Allow me a rare moment for self-reflection (political columnists introspect, as well) — I've been extraordinarily lucky in the past two years to have been surrounded by activists on campus. From my long involvement in the Women's Resource Center and the Roosevelt Institute (plugs intended), I have met a group of individuals who are passionate, articulate, and driven — in short, the type of exemplary person that BU should have featured on any shameless promotional tool that they send out to prospective students. These students are not only individually praise-worthy through their campaigns and events alone, but are collectively mind-blowing as well; it's harder to find a more dedicated group of students that support each other so effortlessly and enthusiastically. The question is — why don't we see more student activists like these?
Organization is the name of the game, so to speak — in a school as large as BU, the most important goal for any student group is to recruit and retain students to their cause. From experience, I know that it's difficult to reach out and hold the attention of students, especially when there's so much going on in the city — and, let's be honest, most people only check "Attending" on Facebook events so their profile reflects their popularity. Yet these student activists have a network of their own — in February, the Feminist Collective (not affiliated with the Women's Resource Center) hosted an "Activism and Chili" event, drawing students into an Activist Consortium to meet and discuss their mutual goals. It was so successful that a spin-off, "Activism and Noodles" was scheduled as a follow-up for the goals set in February (actually, it's happening tomorrow, April 6th — click on the link for more information). Given the bright promise of student activism and self-organization, and their independence from the traditional mold of organization perpetuated by the BU administration, it's no wonder that this new "renaissance of activism," as a friend terms it, is the new trend among student organizations.
But it's becoming increasingly threatened. Prior to becoming involved at BU, one of the biggest qualms that I had with student organizations was the inability to organize independently; there was always a higher authority to which one had to report all activity. To be clear, I do believe in accountability — but I also believe in the ability of students to do things right. For political action, which is the realm in which I deal (with the Roosevelt Institute), I especially believe in the power of student-led organization, or grassroots mobilization. Students have the power to affect political change in society, and to encourage other students to become more politically active. What could be a worse precedent than telling students that they don't have the means to become involved in politics on their own?
Some examples of great student-led, student-based organizations on campus include the Environmental Student Organization (ESO), Students for Justice in Palestine, the Anti-Authoritarian Collective, and the Feminist Collective, among others. These organizations, which function under the principle of self-governance and rely on the strength of its individual members to drive their mission, are self-sufficient, driven, and effective – and are also becoming increasingly threatened by the presence of groups on campus that seemingly advocate for student interests while in reality reversing student progressive action. One such organization that has had an increasing presence on campus is MASSPIRG, the Massachusetts Public Interest Research Group, which works on a variety of public interest campaigns including textbook affordability, zero-waste solutions, and global warming solutions. While there are many commendable qualities of the organization, whose goal is to involve students in the political process by enabling them to work on state-wide campaigns, the main fault that I have is simple: BU just isn't the right environment for a structured political machine like MASSPIRG.
There are numerous reasons to believe that PIRG-organizations are effective at colleges in which it's difficult for new student organizations to flourish; however, BU is not that college. Given the plethora of resources at the school, as well as the large student body and diversity of interests, SAO has made it much easier to start a new organization. Additionally, there's the fact that BU just fosters incredibly driven activists – it's no surprise that the end of the conservative era at BU led to a new life for student activism. In the past six years, this new wave of action, or "activism renaissance," has resulted in student groups such as Slow Foods and the Beekeeping Association. This trend has reaffirmed the lesson of the 70s – that students have the ability to affect change independently and on their own. This idea stands starkly in contrast to the means employed by MASSPIRG, which hires a professional staff member to organize students to work for state-wide campaigns and become politically involved. Excuse the broken record, but students do that too.
That isn't to say that student organizations should never hire professional staff members to achieve their goals, but rather that there's something to be said about student groups that conduct their actions independently. The BU Women's Resource Center is one of the only Women's Resource Centers in the US to be completely student-run, and although the occasional scheduling conflict arises, we've still been able to put in more programming and hold the space open for longer than could have been expected from 13 students. Not that the WRC is the prime example of activism, but it's a pretty good measure of what student activists can do when they put their minds into it.