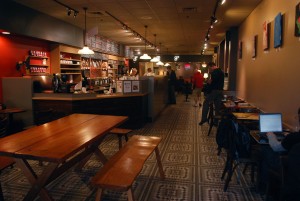 A beautiful month though it may be, for college students, the beginning of October isn't all pumpkin lattes and apple crisp. The first weeks of this month are prime midterm season. Stress, headaches, and cram sessions are about.
While it might seem like a good idea to find a silent, well-lit place to spend a few hours studying, research old and new suggests something more counterintuitive:  it is better to study many things, in many sittings, and in many settings.
Perhaps camping out in Mugar Memorial Library for six hours is not the best way to learn. And quiet though the Theology Library may be, it could be advantageous to study someplace new, as well. With that in mind, the Quad has compiled a list of suggestions on new places to study to help with information retention and spice up our lives in areas other than latte flavors.
Dining Halls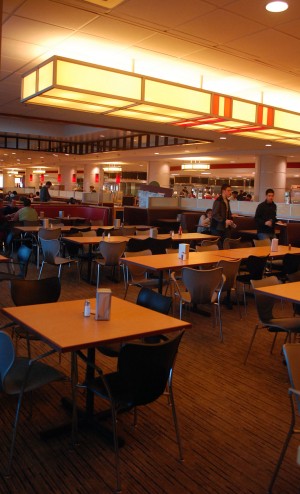 "I once stayed in a booth in the Warren Dining Hall for nine hours," said College of Communications Junior Julia Butler of her strangest study habits. With their unlimited supply of food and space, the campus dining halls seem a natural place to study. But watch out for the rush dinner hour: sometimes it gets a too loud for chemistry.
Check out giant dining halls Warren Towers and West Campus to be right in the bustle, Towers and Shelton for a quieter vibe, or the Myles Standish dining hall  for nooks and separate rooms to hide in.
Coffee Shops
Coffee shops have the double-benefit of good atmospheres and endless supply of caffeine.
The Starbucks in the School of Management is a good option. Its soft lighting and quiet music create a cozy atmosphere. Still, there's plenty of seating at the booths and tables and plenty of room to spread out and relax. This spot comes with the added bonus of the attached, dining-point-taking Breadwinners delicatessen.
Espresso Royale, located at 739 Commonwealth Ave, offers a wide array of coffee, bagel sandwiches, and specialty foods. Its urban atmosphere, local artwork on the walls and steady traffic make it the most vibrant coffee shop on campus. It can get cramped and crowded during the afternoon, but provides a backdrop that might benefit those capable of drowning out the activity.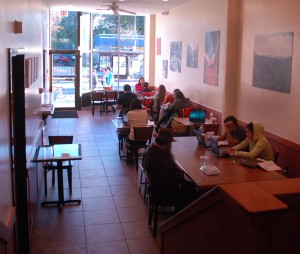 Small and bright, Blue State Coffee is campus's newest coffee shop and is located in West Campus at 957 Comm. Ave. The menu is
smaller but slightly less expensive than that of Espresso Royale, and it offers the same 25 cent discount on coffee for reusable mugs as campus dining locations. The interior is simple, and smooth jazz plays over the speakers; that, and its newness, gives it a cool, low-key atmosphere to benefit even the most high-strung students.
Anywhere
Aside from libraries, coffee shops and dining halls, there are still plenty of other places to study on campus. Each individual school has its own lounge. The School of Law has an excellent study room on the ground floor, and it is not necessary to be in the College of Communications to use the COM Lounge.
But at BU, anywhere can be a potential study location. "It's a college campus," said Butler. "Nowhere is strange to study."
"I don't know that I've ever tried to study anywhere weird," said COM Junior Katie Lannan. "I've conducted phone interviews in weird places, though…a bench in School of Theology, while on my way to Kung Fu class. And the steps of 862 Beacon, where I don't live," reminisced Lannan.
Others students choose places less for their location, and more based on the nature of their task. "I wrote my final paper for my writing class in the Engineering Library," said Corinne Oplinger, a College of Arts and Sciences sophomore. "I was happy, because I'm not in engineering."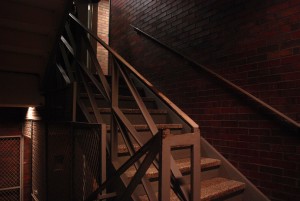 For those just desperate for a change in scenery, stairwells can be useful. And with its white noise of engines and steady chatter, the BU Shuttle is a good place to get reading done. Every corner and every bench can be a potential location for studying and productivity—there are more to midterms than Mugar.