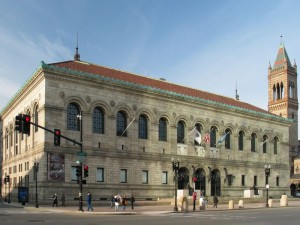 'Tis the season for all things mysterious. This past week, the Boston Public Library hosted "Mysterious Ways," a conversation and panel with mystery novelists Rosemary Herbert, Brad Parks and  Caroline and Charles Todd (a mother-son team usually under pen name Charles Todd). The authors, whose pre-novelist backgrounds include sports journalism, book reviewing and business, shared their unique paths to authorship as well as their musings on the genre and tips for aspiring writers. It turns out that the people behind the pages might not be so mysterious after all.
Writing, as Brad Parks summarized, is a rock and roll kind of career. "I started writing for the money and the sex," he claimed with a laugh. Since the age of 14, Parks worked for his hometown newspaper (the money), writing about sports, such as the women's basketball team (of course, the sex). While the whole sex thing may not have worked out for him, he did find another passion: writing. Parks continued sports writing throughout high school and college and went on to get a position at the Washington Post.
His first story as a news writer was a quadruple homicide. "As a sports writer, I had gotten very accustomed to … being able to tell whole stories" he said. "Yet here, you get the story where four people get killed, yet, we don't know why, we don't know how the people knew each other, we certainly don't know who did it." Unlike an episode of CSI, the crime was not solved; however, the episode still resided in Parks, and the storyteller in him wanted to finish it. He eventually wrote Faces of the Gone, featuring the protagonist Carter Ross, modeled much after himself, and a mystery to solve, much like the news story he wrote years before.
Much like Parks, Rosemary Herbert discovered a love of writing at a very young age. Herbert started writing mystery stories in the fourth grade, but spent over a decade as a book review editor and features writer before she returned to her fourth-grade passion. She brought her experience with publications such as New York Times Book Review, Washington Post, and the Boston Globe into her latest thriller Front Page Teaser: A Liz Higgins Mystery, in which Herbert writes "a love song to the news reporting life as it once was." The story glorifies the underdog reporter of post-internet journalism and takes the reader through the city of Boston and its Irish music scene (Boston has an Irish music scene?).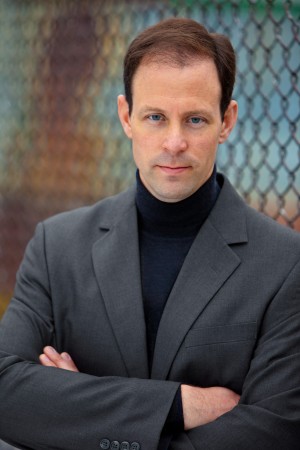 Although Parks and Herbert began their writing careers as journalists, Caroline and Charles Todd happened upon their mystery tale. Working as a mother and son team, Charles, who comes from a corporate background, started writing mystery novels with his mother after a visit to a battlefield many years ago. Sharing a fascination of all kinds of historical wars, the Todds invented characters such as Ian Rutledge, a Scotland Yard detective and Bess Crawford, a upper-middle class woman who grew up in India. Centered on historical events, the mysteries created by Todd involve large amounts of research. "We love to do research!" Caroline Todd exclaimed. The important part is being selective with information: "You have to reach a certain point where you don't murder your mystery," Charles added. And the pair must have been successful, as their books have appeared on the New York Times Best Seller list and the list of 100 favorite mysteries by the Independent Mystery Bookseller's Association.
While it is easy for writers to boast about the books that they have published or the awards they have garnered from their work, the key to becoming good writer, the panel agreed, is getting over oneself; writers must put aside their egos in favor of their work. For newspaper writers, Parks said this means "it's going to be lining hamster cages in the morning." On the fiction side, the panelists added that novelists often must write more for their audiences than themselves. "Well, do your readers like it this way?" Caroline Todd asks herself when writing novels. "If you don't have an understanding about how to be clear and concise, you're going to lose your reader."
The panelists also spoke of difficulties specific to writing in the mystery genre. To be in tune with their readers, mystery writers have to be aware of the culture they are writing about; not every mystery novel takes place in Sherlock Holmes' London or Nancy Drew's River Heights. Caroline Todd explained that she just finished a mystery novel that takes place in South Africa. "A group of locals find the body before the police do, and that leads to a completely different story." Herbert, whose tale takes place in Boston, immersed herself in the culture of Beantown, taking the reader through the city, the prominent Irish music scene, and even through the local libraries that she once worked in and is now paying respect to in her novels.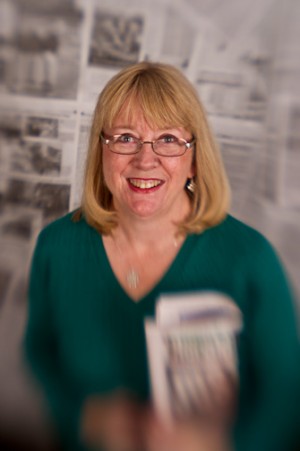 The panel told of a different writing process, too, and agreed that the endings to their stories are often as much a mystery for them as for their readers.  "The great secret of many mystery writers is that we don't know whodunit oftentimes until the very end," Herbert claimed.
In becoming writers, Parks, Herbert, and the Todds learned that the cliché and "insane" statements they'd heard about mystery writing were actually true. "The characters take over the story," said Parks. Herbert added: "We get to explore the personal lives of all of our detectives."
Attendees of the author talk, such as Susan Rich, a Boston University graduate, love reading mysteries and admire such authors because "they look at a culture differently and give me the opportunity to see how they solve problems." And certainly with years of experience as writers, the authors of the Mysterious Ways panel certainly overcame their own and continue to write the mysteries that they love. As Herbert says, "you have to enjoy the writing experience, because if you don't enjoy it, [neither will] the reader."