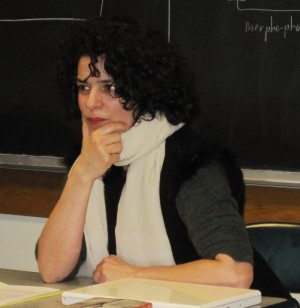 On Wednesday afternoon, Corinne Jaber, a French actress best known for her theater performances and several movie and television appearances, spoke to a diverse group of BU students, professors, and members of the Boston community in the Kenmore Classroom Building about her experiences directing plays in Afghanistan.  The event was co-sponsored by the newly named Women's, Gender, and Sexuality Studies program, formerly the Women's Studies Program.
From 2005 to 2006, Jaber adapted Shakespeare's play Love's Labor Lost, and staged the play in Kabul for the first time since the Soviet Invasion of Afghanistan.  Most recently, she worked with an exclusively female group of actresses in Kabul, Afghanistan.
Jaber prefaced her discussion by stating, "I'm not a feminist, I'm not an academic, I'm a one woman enterprise." She made this clear as she relayed amusing and occasionally heart-breaking stories of the women she met in Afghanistan, directing a group of actresses in a modern play of her own design.  Working alongside fellow French director, Fabrice Melquiot, they were able to create a modern play that ultimately reflected the lives of the women who would be acting them out, weaving in the tales they told and their desires for the future.
Despite the hardships she knew she would face, Jaber took her acting to Kabul in hopes of giving a voice to Afghan women.
"The only way into this world was through theater," she said, so she brought theater to a country where actresses are often considered prostitutes.  After meeting and getting to know the women, Jaber changed her directing plans, deciding to make the play about the women's stories and dreams.  She said her new goal was to create a unique space for women to tell their stories.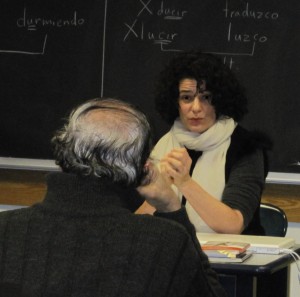 Something Jaber learned from the Afghan people while she was in Kabul was that love was a near impossibility.  Marriages are frequently arranged, and as one local put it, "the pain is too big."  She described some of her frustrations with her actresses, who struggled to produce genuine emotion on stage; emoting particular feelings was too personal and often traumatic based on their life experiences growing up in a war-torn country.
With the help of the French Federation, funding allowed for the actresses to perform their play in Paris, and spend five weeks outside of Afghanistan.  Jaber thought it would be a liberating experience for the women, but she was shocked at how much they missed home and their families.
"Freedom is not something you can just give to somebody," she said  in retrospect.
Jaber thought she could remove the veil, both physically and emotionally for these women, but discovered that changing a person and a culture takes more than trip to Paris.  The people of Afghanistan live day-to-day and don't make future plans, which was a struggle for Jaber as a Western director.  Jaber plans to return to Kabul to work with the people of Afghanistan, but in her next production, a modified version of Shakespeare's The Comedy of Errors, she will work with both men and women.
Corinne Jaber will be giving an additional lecture entitled "Negotiating the Arts in Afghanistan" on her experiences with the women of Afghanistan on Tuesday, March 8 at 4pm in the Terrace Lounge of the GSU.  See this link for more information about the upcoming event.