Seeing Boston by bike is a whole new world. You can forgo crowded trains and sidewalks and jet across the city or along the Esplanade. But buying a bike can be daunting: do you look on Craig's List? Hunt through one of the many bike shops on Commonwealth Avenue or in Allston? Brand new road bikes can run into the several hundreds of dollars. But have no fear, it is possible to find a decent and safe bike for under $200.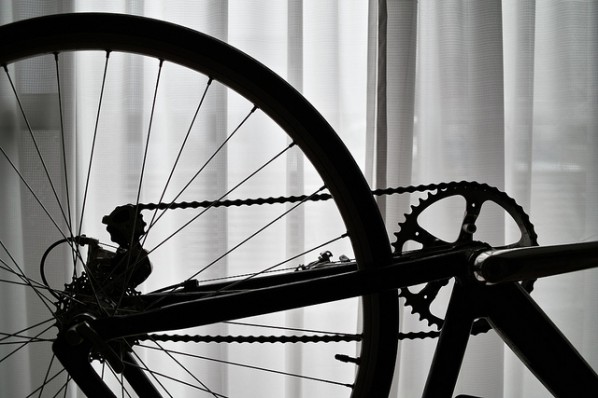 CRAIG'S LIST
"You can easily get a bike for pennies on Craig's List," says BU Bikes staff advisor Dan Kamalic. This is an audacious claim, but Kamalic is able to back it up – he got not one, but two bikes for free on Craig's List. Most Craig's List bikes will probably put you back more than a few pennies, but Kamalic is not far off. The site is often the first and last stop buyers make when looking for a cheap bike.
But like most other items on Craig's List, bikes for sale run the gamut from shiny and new to scrap metal with wheels (a personal favorite is this listing for a "Solid Gold Bike" from, literally, Dreamsville) . So how do you know what to look for? The best thing to do is bring a bike-savvy friend when you go to look at the bike, preferably one who can confirm that it's mechanically sound, Kamalic says. For those without bike-nerd friends, BU Bikes is willing to provide backup. Just bring the listings for a few Craig's List bikes you're interested in to their weekly Tool Time session in the Women's Resource Center at the GSU.  They're always happy to help you figure out what's worth buying. Tool Time is every Friday from 1p.m. – 3:30p.m.
Unfortunately, Craig's List can also be a haven for stolen goods. To avoid being the proud owner of someone's stolen bike, make sure that the serial number hasn't been filed off.
"[The serial number] should be on the bottom bracket of the bike, where the pedals attach," says BU Bikes member Leandra Solis (CAS '13). Not all bikes will have a serial number, but it will be obvious when it's been filed off.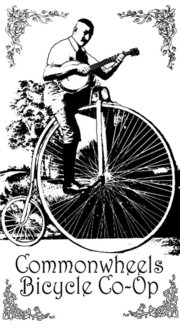 CYCLE SHOPS
Boston bike collectives and local shops are stacked with quality cycles. Bikes Not Bombs, a reconditioned bike shop and community center of sorts in Jamaica Plain, is a fixture of the Boston bike scene. Prices begin at $325 and all bikes come with a 90-day mechanical guarantee on parts and labor and a 10% discount for a year. Plus, BNB holds training programs and classes for local youth and sends thousands of bikes to economic development projects every year.
Across the river, Harvard's Quad Bikes sells refurbished cycles, most of which have been abandoned on campus. The staff is nice, and they offer a 30-day warranty on all refurbished bikes.
Phil at Simple Living Cycles in Framingham is a legend among bikers. He sells quality bikes at or around their wholesale price and his shop is packed wall-to-wall with cycles and gear. "It's possible to get a single-speed bike for $250," says Alex Boyd (COM '11), BU Bikes secretary. To get to the shop, take the commuter rail from South Station to West Natick and walk from there.
FOR THE FUTURE
For those not willing to invest in a bike quite yet, a bike sharing program is in the works by MassBike. The plan for the first year is to have 85 stations with 1,000 bikes, which you can rent for a short trip and return at another station. The federal government awarded Boston $3 million for the program last year, but there are kinks to be worked out before the launch of the program sometime this year.
Brookline, Cambridge and Somerville are also working on establishing a bike sharing program. It would cost about $50 a year, $10 a week, or $5 for an hour, Brookline Selectwoman Jesse Mermell told Boston.com.
IF YOU TEACH A BIKER HOW TO FIX A FLAT
Keep the costs down on your new cycle by learning how to repair it yourself.

As mentioned above, BU Bikes holds Tool Time every Friday in the Women's Resource Center in the GSU from 1 p.m. to 3:30 p.m. Once the farmers' market starts again this spring, Tool Time will be outside from around noon to 5 p.m. If you bring your bike, they provide the tools and some assistance for all your bike injuries, from brake tune-ups to fixing a flat.
Quad Bikes also holds bike maintenance classes for the beginner ($30) and intermediate ($80) levels, which cover everything from basic bike cleaning to installing a new chains and cables.
Commonwheels Bicycle Co-op in Allston provides a friendly space to fix your bike, supplemented by weekly classes and workshops to give you the know-how. They also have some great tip sheets on how to thaw your bike for spring – wiping and lubing instructions – and how to fix a flat.
Other classes about how to fix your bike include Broadway Bicycle School in Cambridge and Bikes Not Bombs in Jamaica Plain. All of the schools mentioned above also sell gear like helmets, locks and bike parts.
Finally, a neat new installation has popped up in Cambridge. The City of Cambridge has constructed three bike maintenance stations for quick repairs like inflating a tire or adjusting handlebars and seats. They are free to use and if popular, the city will be installing them at other locations, according to a Boston Globe article.
KEEP YOUR BIKE FROM GETTING STOLEN
Finally, perhaps the most important part of owning a bike (besides being a safe rider) is keeping it from getting stolen, which involves a hefty dose of common sense and a good lock.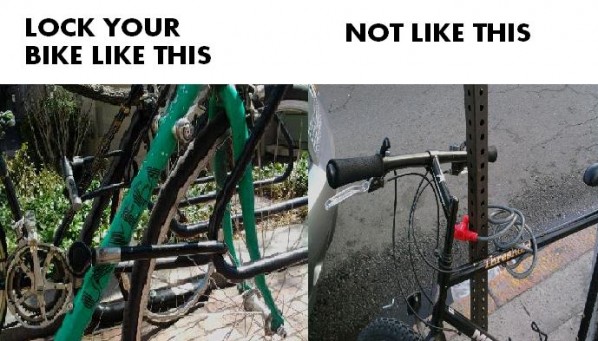 Invest in a U-lock, says Boyd. It doesn't have to be Kryptonite brand, but you shouldn't skimp on it either.
"You should spend roughly 10% of what you spent on your bike on a lock," says Boyd. Lock your bike properly by hooking it through the spokes, around the wheel and to something secure. Sheldon Brown, King of the Bike Mechanics, wrote a great tutorial on the proper method for locking your bike.  It also wouldn't hurt to use a cable lock, in addition to a U-lock, for extra security, Boyd says.
Other common sense tips include parking it in crowded areas or choosing your spot wisely.
"Park next to nicer looking bikes," says Leandra Solis.
Happy thrifty riding!