Following the 7.0 magnitude earthquake that devastated Port-au-Prince, Haiti last January, the Boston University community raised over $50,000 for Partners in Health, a Boston-based non-profit medical organization deeply involved in Haiti. After an 8.8 magnitude earthquake struck Chile last February, students rallied and donated half of the proceeds from the annual Explosión Latina show to Habitat for Humanity for Chile.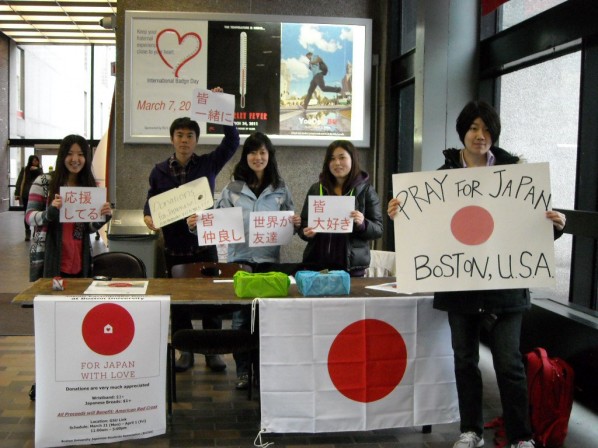 And after an 9.0 magnitude tremor struck the north-east coat of Japan, causing a massive tsunami which flattened whole villages, killed thousands and damaged nuclear reactors, the BU community has stepped in again, with support and thousands of dollars raised from donations.
The Boston University Japanese Students Association, which has partnered with Action for Japan, a group of Japanese graduate students at BU, has raised more than $8,000 since the earthquake struck Japan on March 11.
Since returning to school from spring break on March 14, the groups have been in the George Sherman Union link accepting donations and selling breads donated from Japanoise Bakery  and Café for $1. They also started selling "Pray for Japan" wristbands on Thursday and will be donating part of the proceeds from ticket sales for their annual cultural show, Omatsuri, to the American Red Cross.
"The response from students has been very sincere at first. I think everyone was very shocked by it," said BUJSA co-president Janet Kenmotsu (CAS '11) in an e-mail.
Fellow BUJSA president Yu Ishihara (CAS '11) shares a similar gratitude.
"The BU community has been really supportive," he said, taking a break from dance rehearsal for Omatsuri. "We asked the Student Activities Office during spring break about getting a table at the link and they helped me organize it two days before break ended."
"Some people come by every single day and donate or buy bread. The same person every day," said Sarah Sarara Soji (SHA '14).
The support is not just monetary, however. BUJSA asks every person who donates to take a picture with a "Pray for Japan" sign and write a short message for the people of Sendai/Miyagi. They are planning on creating a board and a YouTube video with all the photos and sending them to Ishihara's friend in Tokyo who is compiling photos and messages from around the world as part of a global project.
"Hopefully we can let victims know that everyone around the world is thinking about them," said Ishihara.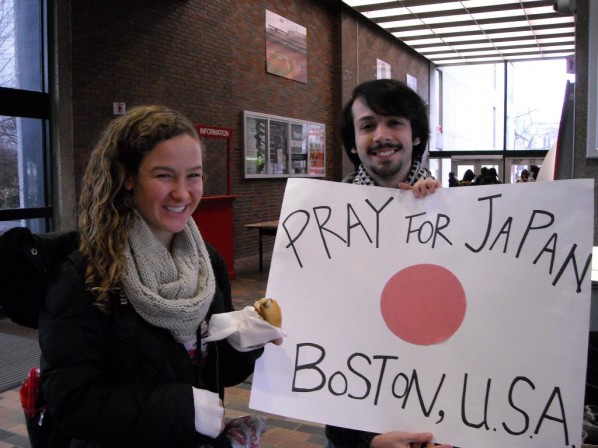 The BU Community has also been affected by the disaster in Japan. Nine students who were studying abroad in Kyoto came back to Boston after the program was cancelled and six students did not even begin their planned studies at Keio University in Tokyo, according to a BU Today article. There are also many exchange students from Japan who are studying at BU, including one student from Sensei, and there are many more students whose families still live in Japan.
There will also be a series of seven chamber music concerts held at BU and around Boston, which will be raising money for the American Red Cross in support of Japan. The first one is Monday, April 4 at the College of Fine Arts Concert Hall at 6:30 p.m.
The challenge now, said Kenmotsu, is to keep the fundraising momentum going.
"As all fundraising goes, it is hard to keep up the momentum as it has been a few weeks since the initial disaster, and our fundraising has decreased," she said, "We hope that our wristbands will help raise awareness and encourage further donations."