New York Times food columnist Mark Bittman wrote in the introduction of his book How To Cook Everything, "Haute cuisine — fancy food… is best left to restaurants." It's the perfect quote to relate to a busy college student's life. There is no reason to prepare complicated dishes when there are restaurants that will inevitably cook gourmet food better than most college students. But, that doesn't mean you should never cook at home. There are many easy-to-make recipes that render delicious food in little time.  Plus, there are countless recipes of traditional dishes that can be simplified to meet college students' needs.
That being said, what better recipe to make than chicken fajitas. This simple recipe of the Mexican dish yields a delicious dinner that will impress even the most selective taste buds. If you're feeling very creative, take on the guacamole and salsa challenge, if not, just stick to the fajitas and buy premade sides. Either way your appetite will be satisfied.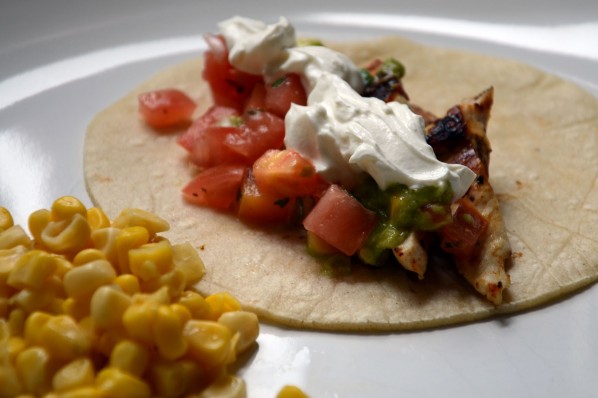 Chicken Fajitas (adapted from Cooking for Good Health)
1 large shallot, minced
2 teaspoons olive oil
2 tablespoons freshly squeezed lime juice
½ teaspoon red chili flakes
12 oz. boneless skinless chicken breast, cut into ½ inch strips
4 flour or corn tortillas
Guacamole, salsa and sour cream on the side.
Combine the shallot, olive oil, lime juice and chili flakes in a bowl. Mix well. Place chicken strips in a Ziploc bag and add shallot marinade. Chill in refrigerator for about 2 hours.
Preheat oven to 350 F. Wrap tortillas in aluminum foil and place in oven to keep warm.
Meanwhile heat a grill or large saucepan over medium high heat. Place chicken strips on pan and cook until slightly browned on both sides, about 5 minutes total.
Serve fajitas with tortillas. Top with guacamole, salsa and sour cream.
Guacamole
2-3 ripe avocados (depending on size)
1 small tomato, finely chopped
1 small onion, finely chopped
½ jalapeno or other chile, finely chopped
Salt & Pepper
In a bowl, mash avocados until pureed. Add tomatoes, onions, pepper and mix well. Season with salt and pepper. Serve with fajitas.
Salsa (Pico de Gallo)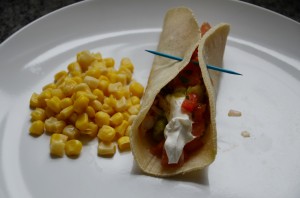 6 Roma tomatoes, chopped
2 tablespoons finely chopped cilantro
½ cup finely chopped red onion
½ jalapeno or other chili pepper, finely chopped (adjust this to taste)
2 tablespoons freshly squeezed lime juice
1 tablespoon olive oil
S & P
Combine first six ingredients in a large bowl and mix well. Season with salt and pepper. Serve with guacamole and fajitas.