Coo-Coo-Ca-Cha!: An Ode to Arrested Development
Oh Arrested Development, sweet sweet, Arrested Development…I'm sorry I'm not a professional ode-writer, but I'm assuming that's how they usually start. If you didn't pick up on the blatant references in last week's #TweetCreep, I suffer from a serious problem. No, I'm not a nevernude like analrapist Tobias Funke. I have OADD, better known as Obsessive Arrested Development Disorder. The symptoms of OADD include watching Arrested Development episodes on Netflix Instant and/or Hulu, purchasing and re-watching all seasons of Arrested Development on DVD, stalking and monitoring the Arrested Development movie page on IMDB for any updates on its forever-pending progress, and making constant life references to Arrested Development scenes/quotes/characters as a way to make your own dysfunctional family seem a little bit functional.
As someone who watches an unhealthy amount of comedic television (my Netflix queue is more impressive than my GPA), I can honestly say that Arrested Development is one of the most consistently hilarious television shows I've watched in my life. Even my once all-time favorite show The Office which I've loved since the pilot (I used to suffer from TOOD, The Office Obsessive Disorder, which includes owning an unreasonable amount of The Office stationary, pre-ordering every season on DVD and memorizing deleted scenes, being one of two people from my small town high school that had heard of the show until everyone went to college and "OMG MEGHAN YOU HAVE TO SEE THIS SHOW THE OFFICE IT'S SOOO FUNNY!", and stalking John Krasinski in the parking lot of Kendall Square Cinema), hasn't been as painfully funny as it was in the early seasons.
Some might argue that three seasons was the perfect amount for Arrested Development, along with other brilliant-but-cancelled comedies that never had a chance to fail after the writers run out of clever story lines (or in The Office's case, incorporating too much plot and not enough of the uncomfortable humor it was originally known for). These short-lived shows include Party Down, Extras, Flight of the Conchords, Stella, Freaks and Geeks, Undeclared, The Office UK version, and Strangers with Candy.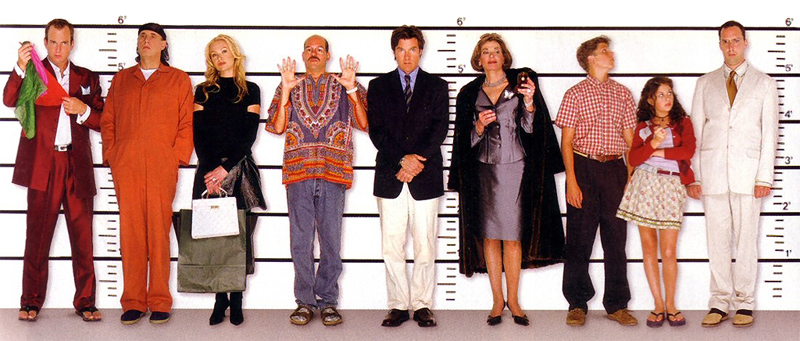 It's hard to narrow down exactly why I love Arrested Development since I can more easily say "everything." Yes, every single thing about this show is a reason to love it — the way George Michael loves his (maybe) cousin Maeby, Maeby loves hating her parents, Gob loves magic, Buster loves Lucille (1 and 2), Lucille loves liquor, Lindsay loves herself, Tobias loves cutoffs, and Michael loves to hate to love his insane family. Similar to George Bluth Sr. and his prison ice cream sandwiches, I am having a love affair with this television series.
My descriptions won't do this show justice, so the best way to understand my deep, undying love for Arrested Development is to drop all current life responsibilities and watch it on Hulu or Netflix. Back when the show was on air, one of the problems of getting new viewers hooked mid-season was that a lot of the jokes are self-referential and can only really be appreciated by watching the series in its entirety. Even after watching every episode over and over, I still pick up on new hilarious bits I didn't notice the first time, because like an ice cream sandwich, the constantly-flowing jokes have to be enjoyed quickly. Unlike ice cream sandwiches though, there shouldn't be a chocolate residue left behind on your fingers after watching an episode.
Also like an ice cream sandwich, when you're done consuming the entire series, you're left wanting more. But there's still hope in that empty freezer for Arrested Development as the long-rumored adaptation to the big screen seems to be in sight. They've finally got all the actors on board, who are constantly questioned in interviews about it. And now that Mitch Hurwitz isn't as busy with the unfunny series Running Wilde (that starred Arrested Development alum Will Arnett and David Cross) due to its cancellation, he can devote his time to the inevitably epic script.
Hopefully it won't be too much longer or this may end up being the promo poster for the film. In the meantime, die-hard Arrested Development fans can enjoy this action-packed pretend movie trailer while eating a delectable prison ice cream sandwich.