As this is the first installment of Newsic Music, I thought it fitting to start off with the hottest music news of the summer – just so you can all be in-the-know heading into a new semester of juicy headlines. Here's what made music-lovers tick over the past three months, and what you need to know in case you missed it!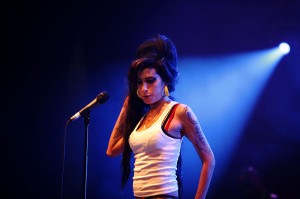 Amy Winehouse Found Dead at 27
English songstress Amy Winehouse was found dead in her London home on July 23. She was 27. The "Rehab" singer had allegedly quit her drug and alcohol addictions cold-turkey earlier this year. However, sources maintain that there was alcohol in her body at the time of her death. No illegal substances were found, and an official cause of death is yet to be determined.
In the wake of her death, Winehouse has been the focus of many headlines, from her father's intention to start a substance abuse charity organization in Amy's name to rumors of a posthumous album to tributes and covers by artists like U2, Lady Gaga, Nicki Minaj, Rihanna and Adele, among others. Her two full-length albums, 2003's Frank and 2006's Back to Black, also re-entered the Billboard 200 in the weeks after her death.
Winehouse was most recently remembered at the 2011 MTV Video Music Awards on August 28 where "Lazy Song" singer Bruno Mars performed a live cover Winehouse's "Valerie" with introductions by British comedian Russell Brand, a friend of Winehouse, and crooner Tony Bennett, who had recently recorded a duet with the singer for his upcoming album.
Spotify Takes U.S. Music Lovers By Storm
Music streaming client Spotify was released to U.S. music lovers on July 14. The invite-only service provides users with access to music from most major and independent record labels, and has playlist, radio and sharing functions. The free version includes audio and embedded advertisements, while Spotify Premuim is available for a small monthly fee and allows users to stream music on smart phones and other devices, similar to SiriusXM's subscription services.
Spotify is integrated with networking platforms Facebook, iTunes and Last.fm, making it easy to share playlists, personalize content and update listening stats.
Find out more at Spotify.com.
Katy Perry Ties Up Michael Jackson's Hit Scoring Record
As of August 17, Katy Perry holds the record as the only living artist with five number-one singles off of a single album. Her 2010 effort Teenage Dream spawned hits "California Gurls," "Teenage Dream," "Firework," "E.T." and "Last Friday Night (T.G.I.F.)." The only other artist in history to have reached those stats was Michael Jackson with his singles off 1987's Bad. Perry also holds the record for having the most 2011 MTV Video Music Awards nominations, with a whopping ten among her four latest singles. Perry's video for "E.T." won Best Collaboration and Best Special Effects, while "Firework" garnered her a Moonman for Video of the Year.
Beyonce Announces Her Pregnancy at the 2011 MTV Video Music Awards
Livebloggers were on Beyonce like white on rice from the moment the former Destiny's child songstress stepped out on the "black carpet" at the 2011 VMAs with a curve-grazing scarlet frock – is that a baby bump? Beyonce confirmed fans' speculation with a motherly caress of her baby belly half an hour later during her live performance on the show where she sang "Love on Top."
There is no word yet on a due date, but Beyonce– also known as B– told CNN earlier this year that she feels "great and I feel like 30 is the ideal age [to have a baby], because you're mature enough to know who you are and to have your boundaries and your standards… but you're young enough to be a young woman. I'm so looking forward to it." Just in time, because she turned the big three-oh earlier this week on September 4.
The iHeartRadio Music Festival Announced to Hit Vegas on September 23
On July 11 Ryan Seacrest announced plans for the first-ever iHeartRadio Music Festival, which is slated to be "the biggest live music event in radio history." The event hits the MGM Grand in Las Vegas, NV on September 23 and will feature artists like Lady Gaga, Jennifer Lopez, Nicki Minaj, David Guetta, Jay-Z, Coldplay, The Black Eyed Peas, Alicia Keys, Bruno Mars and more.
The Clear Channel-sponsored festival has since sold out, which means your only way in at this point is to be one of the few lucky on-air contest winners from one of the company's nationally spread radio stations.
Can't get in to the show? Check out the iHeartRadio website and iphone app, which streams your favorite terrestrial stations, as well as online radio stations similar to Pandora.
This Week in Boston Live Music:
9/7 – Peter, Bjorn and John – House of Blues
9/8 – Dirt Nasty – Great Scott
9/8 – THROWED with guest DJs Two Door Cinema Club – The Middle East Downstairs
9/9 – Flying Lotus – Royale Boston
Out This Week:
9/6 – MonstrO – MonstrO
9/6 – Samiam – Trips
9/6 – The Chemical Brothers – Hanna (Soundtrack)
Got a juicy music news tip? Email me at nlossing@buquad.com!