As night descended upon the New York City Wine and Food Festival last Friday, I set out to cover two wine-slathered, chocolate filled events.
First, I went to Meatpacking Uncorked, presented by the Cooking Channel. Many stores in the Meatpacking district opened up to serve wine, some restaurants set up stations outside to feed guests, and food trucks lined the streets. Unfortunately, the Cooking Channel stars were only out for the first hour of the night, and I missed all of them, but calling them "stars" is a bit of a stretch anyway—many are castoffs from The Next Food Network Star.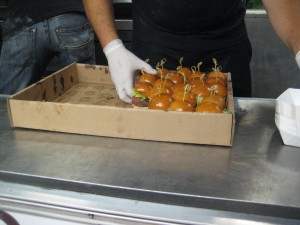 Anyway, after I finished grieving that I missed my chance to meet food television personalities, I stuffed my face with neighborhood eats. Go Burger offered tiny little sliders, which were nice and not messy, even if the giant toothpick stabbed my lower lip. Gorilla Cheese NYC served grilled cheese with bacon and tomato—also yummy!
But the standouts in the food truck category came from the Rouge Tomate Cart in the Park with their market squash soup, which was lovely and totally drinkable on such a beautiful fall evening. Then there was the Sweet Street Dessert truck…
Whereas every other vendor had one offering, Sweet Street Desserts had a full truck of all different confections. I had a gigantic cream puff—that thing was huge. They also had lemon tarts and just about every other kind of awesome you could think of. They win. Hands down.
For the celebrity-crazed among you, I ran into Scott Conant, chef of Scarpetta in NYC, Miami, and now Vegas, and host of Food Network's 24 Hour Restaurant Battle. The chef noted his luncheon at Scarpetta for the festival, and mentioned that he liked to "feel the energy" of the festival, though he added "I'm a little biased," being from New York Anyway.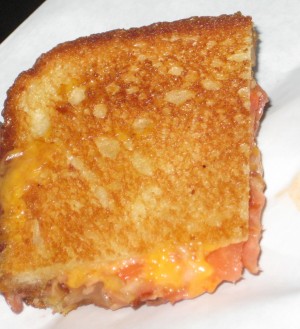 After Meatpacking, I headed to SoHo to attend SWEET hosted by Sandra Lee. Much like the event the night before with Emeril, the "host" of these events stood in a designated area where guests could wait in line and have their picture taken or get something signed by the foodlebrity. As I waited for the line to shorten, I made my rounds sampling even more desserts and schmoozing with some pastry chefs.
My first acquaintance, the cake-decorator extraordinaire, Ron Ben-Israel, mentioned BU's well-known School of Hospitality when I told him I was from BU. Ben-Israel also took some time to talk about Sweet Genius, his new show on Food Network. "Each challenge, we start with four chefs,they get mystery ingredients," he said. "It's like Chopped with desserts—and one judge."
"From my perspective, it was very exciting and frustrating," Bn-Israel added. "Frustrating because I wanted to work with them!" In person, Ron Ben-Israel is worlds away from the mad-scientist of Sweet Genius. He expressed sympathy for the contestants, having to deal with all the twists he throws at them on the show. He went on to say that his real personality comes through more clearly on an episode of Top Chef: Just Desserts he appeared on earlier this season. "That was a great experience because I could be the good guy," he said.
Speaking of TC:JD, head judge Johnny Iuzzini was also serving at the event, in a booth for Jean Georges, where Iuzzzini is the executive pastry chef. "This is the only event I do," Iuzzini said. "It's great because it benefits Share Our Strength. None of the chefs get paid—we volunteer our time." Iuzzini also took some time to talk about the current season of Just Desserts, saying the level of talent this season is much "more professional" than last year. "The idea is it's not what they'd expect in their home kitchen. We work hard to show all the different facets [of pastry]."
At the end of the night, I managed to snag a few moments with the lady of the evening, Ms. Sandra Lee herself. She first gave a shout out to her alma mater—The University of Wisconsin La Crosse—and insisted that she had not had a cocktail all night. "Every time I have a cocktail, I have to take a pisher!" she proclaimed. Then she kissed me on a cheek and a man who may or may not be her boyfriend (the governor of New York) pulled her away.