Everybody needs to have fast food at some point in life. It should be a requirement on the bucket list—and it most certainly wouldn't be hard to cross off. That said, fast food is less than good for you, so having it often is probably not a good idea. Scratch that, it is definitely not a good idea.
Fast food is bad for your health because it is high in all those things nutrition experts say we shouldn't eat. Trans fats, sodium, saturated fat and cholesterol all plague fast food—and they're probably the reason why it tastes so good. Also, a cheeseburger and fries are packed with calories without many nutrients (or so studies say).
This is depressing to read, but there's good news.  You can make your own pseudo fast food at home. There is no study stopping us from making our own "healthy" burger for dinner. This recipe for veggie burgers not only features healthy ingredients, like bulgur, pinto beans and walnuts, it also makes a delicious and nutritious dinner. Unfortunately it's not as fast as ordering a Big Mac, but it's worth the effort.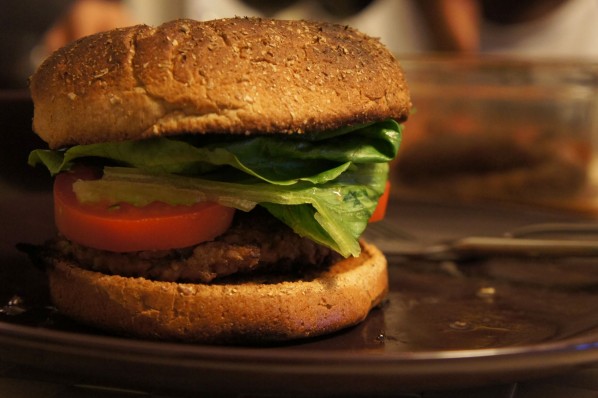 Bulgur Veggie Burgers (adapted from Epicurious)
½ cup chopped onion
1 tablespoon olive oil plus extra for cooking
½ cup bulgur
1 cup water
1 cup canned pinto beans, rinsed and drained
1 ½ tablespoon soy sauce
¾ cup walnuts
1 shallot, chopped
½ cup packed cilantro (leaves and sprigs)
¾ teaspoon ground cumin
Salt and pepper
4 whole wheat buns
1 large tomato sliced
Romaine lettuce
In a small saucepan cook half the onion over medium heat. Add a pinch of salt and cook, stirring occasionally, until golden, about 5 minutes. Add bulgur and water; lower heat and cook covered until water is absorbed, about 15 minutes.
Transfer bulgur mixture to a bowl and stir in pinto beans and soy sauce. In a food processor (a strong blender will work too), pulse bulgur mixture, walnuts, shallot, cilantro, cumin, and remaining onion until finely chopped. Season with salt and pepper and pulse a few more times.
Take ½ cup mixture and form 4 patties, about ½ inch thick. Place on a plate and chill in the refrigerator for at least 10 minutes.
Heat ¼ tablespoon olive oil in a heavy skillet over medium heat. Once oil is shimmering, cook patties, carefully turning once, until golden brown, about 4 minutes on each side.
Serve patties on buns, with tomato and lettuce; add condiments as desired.