BU students have varying degrees of knowledge about their school. However, whether they bleed a vibrant scarlet or a fainter hue of red, each BU kid is well aware and proud of the alumni status of the Reverend Martin Luther King Jr. (GRS '55, Hon. '59).
This past Monday, Martin Luther King Day, Boston University hosted an elaborate remembrance ceremony with speeches about the reverend's nonviolent approach and performances of jazz and classical music. The "Free at Last" sculpture on Marsh Plaza reminds us of Martin Luther King's legacy each time we pass it on our merry way to class or the library. No doubt, MLK is by far one of the most distinguished Boston University alumni. Amongst the vast, global community of fellow BU alumni are some indubitably cool names. Howard Stern is a COM graduate who worked on WTBU. And, yes, Bill O'Reilly was one of his classmates, as the Fox News personality earned his master's degree in COM. Still, many other celebrities are less commonly known for being BU alumni, and here are a few.
Ginnifer Goodwin (CFA '01): The actress, well known for her role on the TV series Big Love and her appearances in movies including He's Just Not that Into You, was somewhat of an overachiever in her years in the bean. She acted in plays at the Huntington Theatre and was awarded the Bette Davis Foundation's prestigious Excellence in Acting: Professional Promise Award.
Michael Chiklis (CFA '86): This actor's roles have varied from a cop on FX's The Shield to "The Thing" in the blockbuster Fantastic Four movies. His cool factor lies in his BU pride. The actor boasts an amazing experience studying acting in the College of Fine Arts and has worked to improve the network of BU acting alumni in Los Angeles.
Andy Cohen (COM '90): TV junkies know Andy Cohen as the spunky and outgoing face of Bravo. In his time at BU, Andy majored in broadcast journalism. These days, as Bravo's programming director, he supervises the production and development of so many of our guilty pleasures: the "Real Housewives" series, "Flipping Out," "Top Chef," etc.
Rocco DiSpirito (SHA '90): The culinary celebrity is best known for his former reality television hit, The Restaurant. These days he's back on the small screen on Bravo's Rocco's Dinner Party. (One can only wonder if his and Andy Cohen's mutual BU affiliation had something to do with the new series!) Before his time at BU, DiSpirito had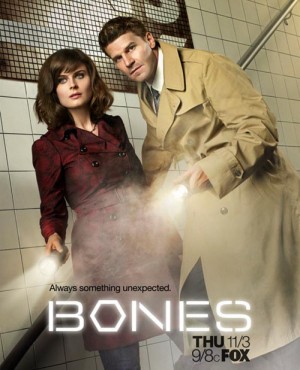 already studied and worked in both Paris and New York and at the Culinary Institute of America.
Emily Deschanel (CFA '98): While she may play real-life sister to actress/singer Zooey Deschanel, on television this former BU
student plays a forensic anthropologist in the series Bones. She received her BFA in theatre in 1998, but her professional career began before her time in Boston.
Boston University can claim so many artists, writers, musicians, moguls and leaders as products of our school's boundless opportunity and top-notch education. BU clearly attracts students that are driven, independent, and cool. Wear your badge of BU affiliation with pride – you're in pretty cool company.