Few rap artists in recent memory have utilized social media and the "blogosphere" music mediums as successfully as Harlem-based A$AP Rocky, whose real name (rather prophetically) is Rakim Mayers. Since releasing his debut mixtape LiveLoveA$AP on October 31, A$AP has "blown up" in the best sense of the term. His album received high praise from critics and fans alike. Quite famously, on the strength of his first singles "Peso" and "Purple Swag," he also signed a reported $3 million deal with Sony/RCA.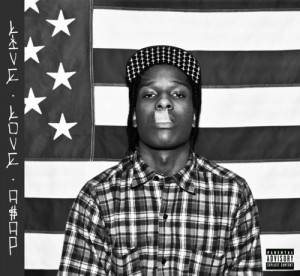 Although a New Yorker by birth, residence, and lyrical boasts ("Harlem's what I'm reppin" is heard in multiple songs on the album), A$AP's diverse tastes and influences make LiveLoveA$AP a fantastic listen.  Underneath a quick delivery, which at times scarily resembles that of Bone Thugs-n-Harmony, are drawn out, syrup-soaked beats drawn from A$AP's affinity for Houston hip-hop.
As Pitchfork reviewers noted, A$AP is not the most varied when it comes to his lyrics or themes: his concerns are almost exclusively about being a "pretty muthaf***a," "reppin' Harlem," doing all sorts of drugs, and, of course, women. Yet where other artists concerned with similar topics wear thin after about two songs–50 Cent, for instance–A$AP's ear for beats (the recruitment of Clams Casino for many of the songs has proved genius) and his general musical instincts have served him well. As a result, LiveLoveA$AP has received numerous spots on year-end best-of lists and has appealed to fans across the music spectrum, including this writer.
After downloading his mix-tape on the day of its release, A$AP became my new musical obsession; he was all I listened to while walking to class, riding the BUS, sitting in my room, etc. If a friend asked for a music recommendation, A$AP's was the first and often only name with which I replied. It shouldn't be surprising, then, that when I learned A$AP and his crew were venturing to Cambridge's Middle East, I immediately snatched up a ticket.
After waiting for nearly an hour for the star of the night to emerge, the audience–composed almost exclusively of 18-25 year-olds–received the Harlem rapper with thundering applause, whistles, and chants. Any lingering anxiety from the long wait was erased completely with the rowdy opener "Pretty Flacko."
Midway through the set's second song, "Wassup," A$AP ensured the crowd's goodwill for the night's duration. As a fan was being forced out of the club for violating the Middle East's strict no-crowd-surfing rule, the MC called for the DJ to stop the music and yelled across the stage to the security guard, "Yo! Bring him back! BRING HIM BACK, MAN." As the fan was welcomed back into the throng of fans near the stage, A$AP offered something of a defense: "Yo, I don't know if you know this, man, but we from Harlem. You can't blame us for body slammin', crowd surfin', or mosh pittin', that's jus' what we do!" The crowd, needless to say, loved every word of it.
Next up was the very popular "Bass," a song featuring the beats of, and a few shout-outs to, the aforementioned Clams Casino. Following his earlier summation of Harlem practices, it was no surprise to see A$AP leap into the welcoming arms of the crowd as the song reached its conclusion. There was never a dull moment over the next 45 minutes, as A$AP went through impressive renditions of "Demons," "Get Lit" (during which he inevitably took a few puffs of a fan's joint), "Trilla" and "Roll One Up."
Conscious of "Peso"'s nearly universal appeal, A$AP wisely ended the night on his biggest song. At this point he was visibly enjoying himself, thrusting the mic to the crowd and letting them rap; and rap they did–every word. With a cheeky grin, many thanks, and a few choice words regarding the police officers wandering around the stage (think of the NWA song), he was gone. An overjoyed audience, by this point exhausted and sweat-drenched, showed their intense appreciation as A$AP made his exit.
Undeniably it was a memorable night for all involved, and one that indeed justifies all the hype, praise, and attention of which A$AP has been a constant recipient since the release of LiveLoveA$AP.