Everyone needs to get down every once in a while. Luckily for Boston University students, Beantown is the town to get down. Whether you like to shake a tailfeather, bust a move, or just sway gently in a corner by yourself, here is everything you need to know about how to dance in Boston.
Swing dancing evolved in response to the jazz of the 1920's and 30's. There are a couple different kinds: East Coast Swing, which is the most commonly known type of swing dancing thanks to classics like Grease; jitterbug, which is similar but more fast-paced; and the lindy hop, which, although related to East Coast, has a different basic step. Lucky for both the beginner and the swing-savvy, Boston is a veritable hotbed of every kind of swing dancing.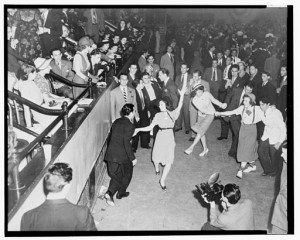 Swing is a totally approachable form of social dancing. The basic step is easy to learn, the Boston swing dance community is open and understanding of beginners, and if you mess up so badly at one venue that you can never return, there's always another.
For beginners, there are many ways to take lessons. First and foremost, swing dancing classes, both for credit and not for credit, are offered at Boston University through the Fitness and Recreation Center. Some may be interested in learning to dance in a place where they do not know anyone. In that case, there are several great options. Single lessons are available at a multitude of places; people under twenty-one years of age should look for venues like Boston Swing Central that are dance studios as opposed to bars. Boston Swing Central offers single classes and a free dance every Friday, as well as boot camps every few weeks.
For those out there that are old swing dancing champs, or who want to learn by doing, the MIT Lindy Hop Society offers free dances on most Wednesday nights. Some other Boston favorites are Upstairs on the Square, a restaurant in Harvard Square that hosts swing dancing nights, and Monday night practice hosted by Five Guys Named Mike, also in Harvard Square.
Swing dancing is great exercise, a great way to meet people, and more than anything, fun. Plus, you're young, nimble, and you probably have at least one free night this week. So get in the swing of things and explore what Boston has to offer.