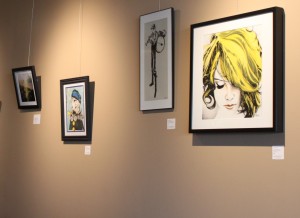 "re·fract (ri-frakt'): To alter by viewing through a medium."
Upon walking into Espresso Royal Caffe on Comm Ave, I was greeted with an exhibit of an amalgam of works by a group of artists that went under the title of Rifrákt Artist Collective. A self-described "community of emerging Boston artists devoted to networking and the pursuit of local art," Rifrákt welcomes a variety of mediums and styles, as evidenced by the exhibit which contains everything from photography to canvas and wood etchings. The community is made up of nine core, and thirteen guest, artists.
Rifrákt was started by Stephanie Goode and Carolyn Hulbert in 2009 when they began by pulling friends in. "We wanted to create a support system, where people could bounce ideas off of each other," says Goode. "We're so varied in terms of style…we learn about each other's work and influences."
 "Yeah, she'll show me her cool cameras and I'll show her my animation" quips Sarah Gay, a contributing artist. Goode and Gay are perfect examples of the spectrum of style that Rifrákt displays; Goode's work is based in photography and digital imaging while Gay specializes in mixed media illustrations and animation. "You can't grow up in a vacuum; you have to constantly be learning new things," says Gay. "The best education I've received is at Rifrákt."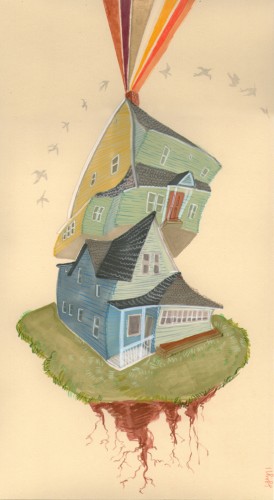 The Rifrákt community takes on the classic dilemma of balancing full-time jobs with their passions for art. "I found that I could synthesize my art and my work," says Gay of her teaching job. Goode, who does freelance post-production work describes the relationship between the two as a sort of "ebb and flow."
"It's kind of like having a baby, because you never know when it's going to need your attention," says Gay of her art. "Imagine a party you're never invited to, separated by a velvet rope and curtain with you on the other side. Every once in a while the curtain will part to give you a glimpse of the party. That's a better metaphor!" she laughs.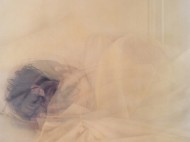 Despite their different styles, the Rifrákt community shows some thematic consistency in their assorted works, the notions of time and nostalgia being prominent subjects. "It's not unlikely for us to have similar sources of inspiration," says Goode. After having worked as a group for long enough, things tend to move in a similar direction. "Everyone's working on what they're going through in life," Goode adds. Art among the group tends to range from the introspective to the slightly more upbeat and lighthearted. "Rifrákt was very structured in the beginning, but we loosened up over time…now we know how to work with each other and what we can do to make this collective useful to everyone," says Goode.
While they show work on a regular basis, like with their ongoing exhibit at Espresso Royale, they have started to consider ways of giving back to the community, as a mutual sense of interest is vital to any relationship. "So many people have moved to places like New York because they think it's impossible to be an artist in Boston," says Gay. "Why can't arts be part of 'The Hub' here?" Rifrákt's emerging mission statement is to create awareness among the average person of the presence and relevance of art in the city. "Life goes by faster and faster, and you need something to tug at you and remind you to keep looking," Gay enthuses.
Within the technology-centric world of today, this is becoming harder and harder to do as media is presented in such travel-sized forms as to separate the individual from everything else. Goode talks about the possibility of a show which would be a response to "not knowing who your neighbors are."
"Human interaction is becoming a lost art form," says Gay. "We want to do more to bring people together."
The Rifrákt exhibit will be on display at Espresso Royal Caffe on Commonwealth Ave until May 12, 2012. Visit their website for more information about the artists and upcoming shows.