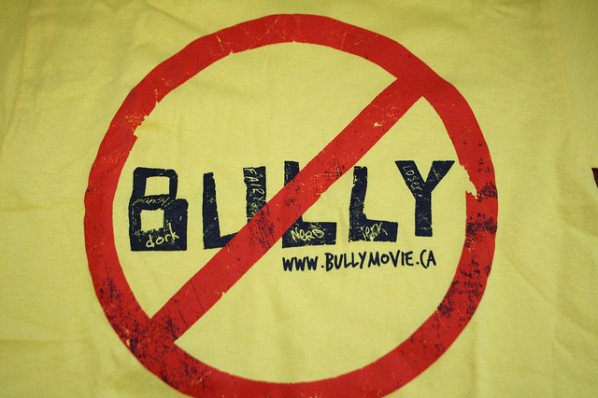 Bully is a documentary about vulnerability and trauma. It is about instilling compassion instead of animosity in the next generation, a relevant and important goal in today's violence-obsessed society. Why, then, is it being shown on only a select few screens, when the message is so clearly needed? Why would this film receive an R rating, restricting it from reaching the widest possible audience, when another recent film, The Hunger Games, shows teens fighting to the death and received a PG-13 rating?
To put it bluntly, it's because the young subjects of Bully say a couple bad words, which, according to an archaic rating system, might offend some people more than the violence the movie is trying to dispel. The language in the documentary has provoked an R rating by The Motion Picture Association of America (MPAA) in accordance with their system, last updated in 1984 to include PG-13. Such a rating restricts anyone under 17 from seeing the film without adult supervision, but more importantly, it prevents the film from being screened in U.S. middle and high schools "where it might otherwise reach a mass national audience of students and be used as a tool to stop an epidemic of physical, psychological and emotional violence," according to a Weinstein Company news release.
The rating controversy has garnered national attention. An online petition to change the R to a PG-13 has, at the time of this writing, over 500,000 signatures. Rep. Hansen Clarke (D-Mich) has spoken about the merit of the rating, saying "The hypocrisy is that the very movies that contribute to violence can be seen by teenagers because they get a PG-13, and the one film that actually teaches them to respect others is given an R." Clarke is referring to The Hunger Games, which, to be clear, in no way promotes or advocates violence. Still, its rabid fans are lining up to watch kids murder each other, and let's be honest, they're probably not coming away with a strong message of anti-violence.
Bully follows the lives of several high school students who are bullied daily, and offers deep insight into the traumatized psyches of adolescents abused by their peers. It shows how traumatizing alienation can be on a young student's psyche, leading to depression and even, in the cases of Tyler Long and Ty Smalley, suicide.
The producers of the film, The Weinstein Company, have decided to release Bully unrated. Certain theater chains, such as Cinemark, never show unrated movies. However, the two biggest chains (Regal and AMC respectively) have decided to treat Bully as R rated, although AMC will let minors in with a signed permission slip. Hopefully, age restrictions will not prevent the film from spreading its message: that bullying in schools has a devastating effect, and must be stopped.
Bully was released in U.S. Theaters on March 30th, making $115,000 its opening weekend despite being screened in only 5 theaters. The first screening of the film in the Boston area will be Friday, April 13 at the Landmark Kendall Cinema in Cambridge.