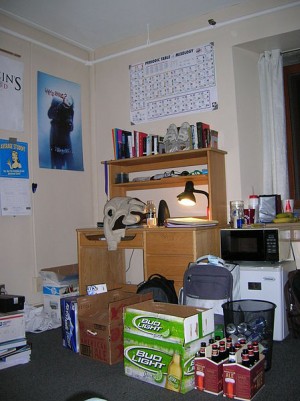 That cold, hard slate they call a "bed." Those splintery wooden drawers. That busting-at-the-seams closet. That dust bunny-caked carpet floor. And all sandwiched between four concrete slabs of wall. Home sweet home for the next nine months.
Spare your roommates the beer and naked lady posters and outfit your home-away-from-home uniquely this academic year. Decorating your dorm so it doesn't look like quite so dungeon-like requires mindfulness of BU housing rules, a healthy appetite for DIY, and perhaps a Pinterest account.
Experiment with lighting
String Christmas lights in your window and along the perimeter of the walls for a warm alternative to the standard harsh, fluorescent lighting provided. Using the same twinkle lights, you can attach clothespins and clip photos onto them to make a display piece for your memories throughout the year.
Go Goodwill
Steer clear of Target and do your décor shopping at secondhand stores. You can avoid having the same lamp and bed set as your roommate, and modify the less expensive items to suit your taste. The Goodwill at 965 Commonwealth Avenue or 520 Mass Ave in Cambridge are good spots to start. Or try Urban Renewals at 122 Brighton Ave in Allston.
Get creative with your storage containers
Use pretty plastic cups to keep your pens and pencils on top of your desks, or paint Mason jars.
Stop by a liquor store and ask for their empty wine crates. Use them to store textbooks, notebooks, or folded sweaters. The wooden boxes are often branded with the wine company's logo and can add a rustic, vintage vibe to your room.
Be a bit tacky
Find colored thumbtacks at the office supply store, pin them to the corkboard backing on your desk, and use them to hang your necklaces, bracelets or lanyard.
The multipurpose picture frame!
Use a picture frame to frame a piece of corkboard for a pretty border. You can stick pushpins in the frame to hang your jewelry off of. Make a framed table organizer using fabric of varying lengths and a bit of superglue. Or just frame that picture of your grad cap-clad self and proud family at your high school graduation.
Stay away from those poster sales
Every fall, there's a huge sale of posters in Agganis Arena frequented by flocks of freshmen. They leave touting Hangover movie posters and enlarged versions of classic rock album covers. The budget-friendly 'artwork' can be found on nearly every wall in a Warren floor. You can save yourself the Warren-to-West trek, and shame of the generic adornment, with a little DIY.
Enlarge black and white photographs or have a paint party on inexpensive canvas with friends. Buy a chalkboard and a box of colored chalks to scrawl designs on. You can change them with your moods. Or, try a Pinterest favorite, the uber budget-friendly paint chip art projects.
Your room may not look straight out of the pages of the Pottery Barn catalogue, but at the very least it won't look straight up identical to the one next door.