Fashion's Night Out Boston: Let Style Reign!
Boston erupted in stylish activity at last night's Fashion's Night Out, a retail and fashion extravaganza taking place all throughout the city. From Newbury Street to Copley Mall to South Boston, the streets were packed full with stylish shoppers and many, many shutterbugs. Live music echoed out from street to street, free cocktails and other goodies abounded, and a good time was had by all in the name of style.
For those unfamiliar with last night's festivities, Fashion's Night Out was created by Vogue editor-in-chief Anna Wintour and the Council of Fashion Designers of America to promote fashion and retail in cities around the world, including New York, London, Paris, Tokyo, and many more. This is the second year that Boston has participated in Fashion's Night Out, and this year left the first in the dust.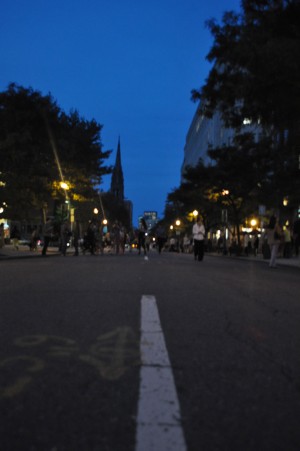 Many of the shops and businesses on Newbury Street hosted in-store events including tempting sales, DJs, free snacks and cocktails, and exclusive access to new merchandise. In addition to in-store events, the entire street was closed to traffic, allowing free reign for snappily-dressed pedestrians to stroll about and enjoy the live entertainment that flourished on almost every block.
On both Newbury Street and at Copley Mall, fashion shows for local retailers were held, showcasing the fashions of designers like Marc by Marc Jacobs, M. Miller London, Ted Baker London, Britt Ryan, Vibram Fivefingers, and G2O Spa, as well as high-end designers like Jimmy Choo, Elie Tahari, Vince, and Wolford, among others. In South Boston, a "Red Light District" themed evening raged on, offering trunk shows, cocktails, and parties.
Although the fabulous events and general madness of the evening were more than entertaining, the true fun of Fashion's Night Out lies in the people-watching. Stylish Bostonians of all ages, types, and sizes came out in their most stylish ensembles, providing a vivid visual of what's happening in fashion right now (lots of dip-dyed hair, leather bottoms, and buttoned-up collars). Street style photographers, in such an abundance of material, were plentiful.
If one thing could be improved upon at Boston's Fashion's Night Out, however, it would be its organization. Many said that it was difficult to understand via web and social media exactly what went on when, since there was no centralized website for the evening, but rather varied social media (Twitter, Facebook, etc.) which gave up-to-the-minute reporting but little consensus on scheduling or location. Says Tina Sutton of the Boston Globe, "Unfortunately, there's no one website you can go on." This drawback, however, did not keep most from having an excellent evening. Sutton continued, "Luckily, Boston isn't too big, so you can walk on Newbury and see everyone."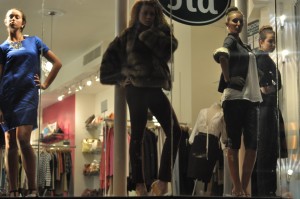 Despite such minor pitfalls, Boston's second annual Fashion's Night Out was a great success. Happy shoppers walked away with armfuls of gear and fashion, and the general air of high spirits and fun was uplifting and pleasant. Next year's festivities promise to be even bigger, better, and more fabulous!