Since the semester began, our school's administration has been hyping up both The Campaign for Boston University and its kickoff event, The Celebration of BU! This last week, Boston University has inundated all its communications with news of the event: BU Today mailers, updates to the homepage, those giant posters along the side of Warren Towers. So I guess I should have expected to see massive spotlights looping around the sky above Agganis Arena on Saturday night when I showed up to see what all the commotion was actually about. As it turns out, I should have expected exactly how the event would go as well. Saturday's Celebration of BU! involved a lot of chest beating, a lot of self-applause, and a fundamental misunderstanding of what ought to be celebrated.
I descended into the arena, and as I found my seat I saw something similar to those pre-movie-pre-preview trivia games cycling up on the giant projector screen, just like you'd see in a multiplex theater. The trivia game had different questions, i.e. How many BU alumni won medals at the London Olympics?, and an invitation for audience members to text in their suppositions, i.e. 3; all the responses were tracked and displayed in real-time up on the screen. It was very amusing when the majority response turned out incorrect.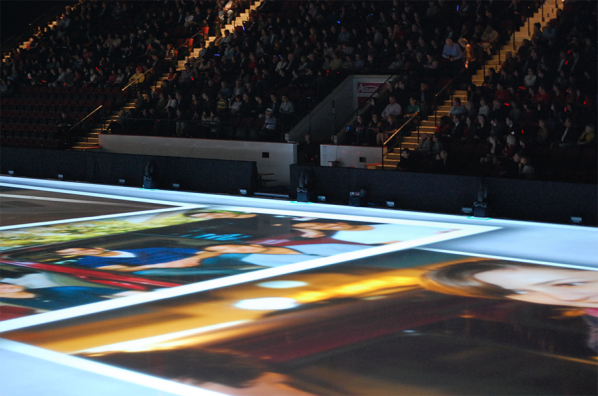 Each of the 4,000 seats at the Celebation of BU! came with a plastic cup in the seat's holder. Each cup contained one event program, one glow stick, one package of UNREAL77™ peanut butter cups (2 pieces, 190 calories each, 12g fat/18% daily value each), and one flyer for UNREAL™ candy. The cup was also labeled with the UNREAL™ brand.
The rest of the audience filtered in, the presenters readied themselves backstage, and the Boston Pops Symphony Orchestra tuned their instruments, all while very loud Top 40s music played over the arena's speaker system. The orchestra was at the far end of the arena; the space's rink, empty and groomed to a mirror shine, reflected the light off the brass and flute sections. As eight o'clock approached, the music slowly sank away as a projected countdown timer ticked away the seconds to the start of the whole show. At twenty seconds to go, the music had totally disappeared and the lights started fading. At ten seconds to go, the audience began to count along with the clock. I wasn't quite sure what would happen when time ran out, and I don't think anyone else knew, either.
Turns out what we were all counting down towards was the first musical number of the night. Large white letters spelling greatness were projected upon the ice and two men dressed in white jumpsuits and ski masks speed-carved an ice sculpture while the Pops accompanied them with the Blue Ball Machine song. Both carvers were equipped with very large chainsaws, which when they cut into the block of ice sent large shavings flying about (you could see the AV guys just about having a panic attack as those shavings flew towards the all audio equipment). The whole thing was extremely manic but obviously rehearsed with precision.
The completed carving resembled the statue from Marsh Plaza: doves, flying towards a better future, carved completely out of ice. Reminiscent of a cooking show host pulling an already oven roasted meal from underneath their kitchen's island/lecturn, parts of the statue were pre-carved and required some assembly. The routine came to a close as one of the carvers ascended a ladder to place a final frozen dove atop the statue. This dove, made of solid ice, was heavy and it was clear that the performer was struggling under its weight. At the very top of the ladder, he lost his balance and fell, making a very painful-sounding thud that could be heard across the arena. The frozen dove he was holding fell along with him, smashed against the ground, and shattered. Its pieces splintered in every direction across the freshly groomed and very slick rink. The Celebration of BU! was well underway.
After a moment of confusion ("…was that meant to happen?"), the lights rose and the host of This Old House, a BU alumni and obviously a celebrity to the aging donors in the audience, welcomed us all to the event. He, too, used the words great and greatness in his speach. After his introduction, a sizzle reel of Boston University's great history and facilities was flashed across the ice; behind this the symphony played a mashup of Led Zepplin's Kashmir and Aerosmith's Dream On. The projected movie revived and strengthened the multiplex atmosphere, what with the stadium seating, the constant sound of crinkling candy wrappers, and the strong, sweet smell of peanut butter cups. This was the point when some people around me started to leave; I stuck around, choosing to have a great time.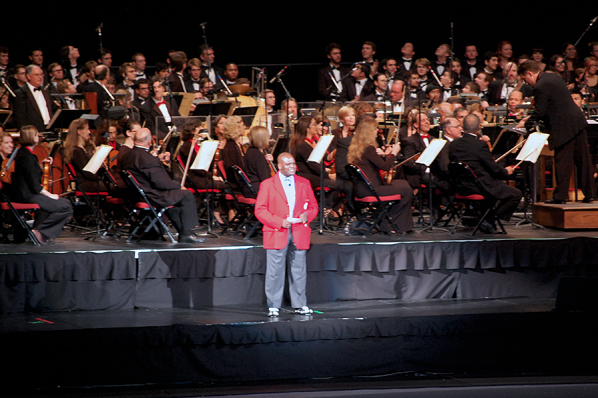 It's a good thing that I stuck around, too. As the film ended, BU's most popular adult—Dean Elmore—walked out onto center stage and flashed one of his fabulous smiles. Our Dean of Students was swagged out in a fabulous scarlet blazer and white shirt/bowtie. Dean Elmore, following along with the evening's theme, spoke about greatness and encouraging everyone at BU—CAS nerds, COM geeks, and SMG snobs included—to choose greatness over all else. After pumping up BU superiority over its neighbors Harvard and MIT, the Dean opened a small red notebook and spoke passionately about our school. It sounded as if he were reading to this audience straight out of his own private journal.
Before leaving the stage for the night, Elmore introduced the biggest number of the night: $420,000,000 fundraised to date through the Campaign for Boston University. That is a very impressive figure. The only richer campaigns I know of are those of Romney and Obama.
The spectacle continued into the night with gospel songs, even more symphony-backed video pieces, and a performance by BU's ice skating team. I didn't stay the entire time (after all, it was Saturday night and I'm not a complete loser, despite what you've heard) and I sort of regret it now, hearing about the pyrotechnics display and laser-light show secondhand. But I left the event uncertain of what I was supposed to learn from it. Sure, it was a Celebration of BU!, but it seemed like it was simply celebrating the ontological reality of BU's existance, something akin to a patriotic flag-waving ceremony.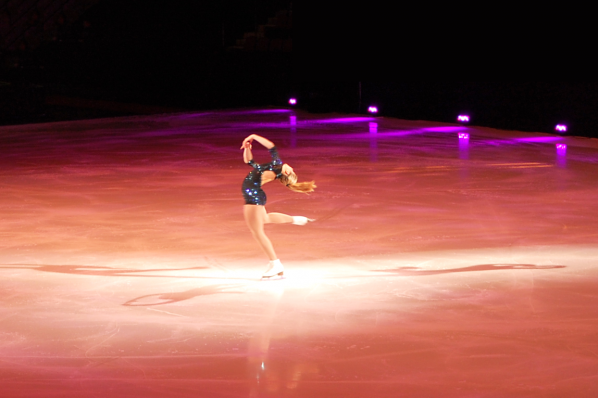 Did I choose to be great when I chose BU's name from a (short) stack of acceptance letters? Am I supposed to believe that choosing to be great is its own guarantee? Even if I did, I don't think that's how it works. Ask any straight A student: choosing to be great ensures nothing. Greatness is not a choice but the ultimate result of a series of incredibly mundane choices: Do I study or party? Do I sleep in or show up to class? Do I spend the majority of my time in the library or on Facebook?
Ultimately, it seems as if the "Choose to be great!" slogan is a substitute for "Desire success!" Simply wanting something cannot be its own reward. Without a deserving cause, saccharine celebrations quickly become superfluous. I don't think choosing greatness deserves celebration. I think following through with that choice, committing to it, and deserving greatness is what ought to be celebrated in grand fashion by our school. This is much harder, since it not only requires making decisions but evaluating those decisions in retrospect. So, BU, you get my applause for raising almost half a billion dollars. I'll throw you a party myself once you put it to a good use.