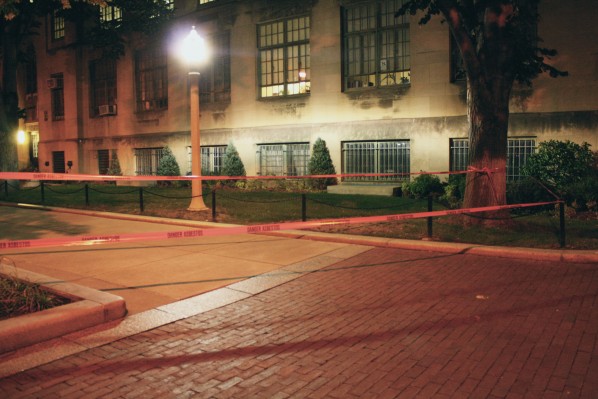 On any given night, people walking past Boston University's School of Theology might come across a strange and disconcerting scene. It's not the men in work clothes hammering away high up in cherry pickers–they have become commonplace amid the seemingly constant stream of construction at the university.
Instead, what dominates this scene are the words "DANGER ASBESTOS" printed on the red tape that surrounds the area where the men are working, extending for 30 feet in every direction.
Senior Leah Baumann explained why this scene concerned her. "It's a little concerning that we can't walk on the sidewalk now, but we can be in the classroom with [asbestos] all day," she said.
Freshman Ryan McNaughton admitted that all he can say about asbestos is, "I just know it's bad."
In reality, the red tape and the construction that accompanies it are part of a five year project to replace the windows in the School of Theology, College of Arts and Sciences and the Metropolitan College with new, energy efficient and archaeologically accurate replicas.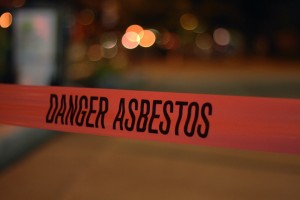 The reason for the tape is that the caulking for the old windows contains a small amount of asbestos. That being said, the mineral fiber only poses a threat when it is airborne, which would only happen if the fibers were disturbed and is unlikely in anything but a construction environment.
That's why all the construction is done at night when it is unlikely students will be roaming the halls, instead of during the middle of the day.
What is more, the Environmental Protection Agency has strict regulations on how to deal with material that contains asbestos. According to BU's Executive Director of Media Relations Colin Riley, the university is in compliance with all of these regulations.
One of those regulations is that the area containing asbestos must be clearly marked, which explains the tape.
Riley also says that they are taking extra precautions, just to be safe. "We are overcautious whenever we are dealing with asbestos. Rather than do it individually, we are treating every window as though it has asbestos," he said.
To top it all off, according to the U.S. Department of Health and Human Services, exposure to asbestos is really only dangerous at high levels over extended periods of time. That means that even if students were exposed to the fiber while in class, which is unlikely, the chances of them becoming ill from that exposure are close to zero.
Once one understands the situation and the lack of danger involved, the only question still left unanswered is quite plain: why didn't the university say anything? It seems strange not to expect students to wonder what is going on when they have to walk on the street because the sidewalks are strewn with tape warning of asbestos.
"I don't think it occurred to anyone because it is being contained and handled safely," said Riley in response to this question.
In other words, the university felt they were dealing with the situation safely and thoroughly enough that it never crossed anyone's mind that students might worry about the presence of asbestos in their classrooms and want to know what was going on.