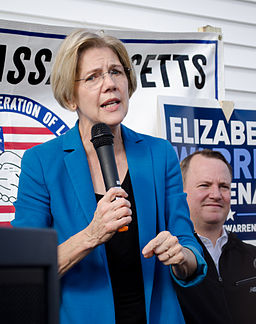 This has been a tough year for women, a year in which many states attempted to limit the availability of contraceptives and abortions and even repeal the Lily Ledbetter Fair Pay Act. In turn, women's issues became one of the biggest topics for discussion during this past presidential campaign. This left many pundits and journalists wondering, "How will women vote?"
After Tuesday, the answer appears to be "for other women."
Election night was a historic one for American women in politics. First, 2013 will mark the year for the most women ever in Congress–20 in the Senate and 77 in the House of Representatives.
Second, many of those same Senate seats are going to the first women to ever be elected in their state. Democrat Elizabeth Warren won her seat in Massachusetts from Republican Scott Brown in a nationally followed campaign. Hawaii and North Dakota also elected their first female senators. And Wisconsin not only elected their first woman, Democrat Tammy Baldwin, but also the first openly gay female senator.
Many women who held Senate seats also were re-elected. Most notably, Democrat Claire McCaskill from Missouri defeated Representative Todd Akin for a second term. Representative Akin's comments about "legitimate rape" brought a lot of controversy and dismissals to his campaign from Democrats and Republicans alike, and clearly did not bode well for him in the end.
New Hampshire earned the most headlines as the first state to have an all-female congressional delegation. Democrats Carol Shea-Porter and Ann McLane Custer beat out the incumbent Republican male congressmen for the House, joining two female senators, Democrat Jeanne Shaheen and Republican Kelly Ayotte, as well as Governor-elect Maggie Hassan.
Though many looking at these statistics see progress, many still recognize that although this was groundbreaking election season, there is still more work to be done.
Senator-elect Elizabeth Warren said Wednesday, "The fact that in this campaign and in this Congress, there were debates about equal pay for equal work, over insurance for birth control, tells us that there's still a lot of work."
At the same time, there are still many in Congress that are outspokenly against what some of these elected women pledge to pursue or uphold. Only time will tell if these newly elected women can uphold women's rights.
Differences in politics aside, these statistics should be seen as a step in the right direction. The U.S. government is notorious for its under-representation of women, and this past election season should be seen as a moment of pride in America for alleviating the gender bias.
Even though the election barely just ended, grumblings of 2016 candidates are starting up again. Already politicians like New York Senator Kirsten Gillibrand, re-elected this past election, and Secretary of State Hillary Clinton are rumored to be potential presidential candidates in four years.
What steps will women ascend next in American politics? Could they soon be those in front of 1600 Pennsylvania Avenue?