Christiania was something unexpected. I visited it as a last-minute outing on my recent trip to Copenhagen, Denmark. It was two blocks away from Vor Frelsers Kirke, a big baroque church: the building's black and gold corkscrew steeple could be seen from within the Freetown's grounds.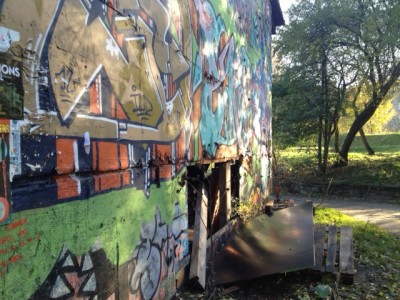 Freetown Christiania is an autonomous neighborhood–what some might call a commune–in Copenhagen's Christianshavn district. And while Copenhagen itself is ordered, articulate and gracefully clean, Christiania is gritty, wild, and reeks of pot. The scent hits you when you walk in the fancifully painted front gates. As you go in further, you find that plenty of people are smoking the stuff, or eating something mixed with the stuff. There are picnic tables and benches all over and a path overlooking a big pond. There are venues and meeting spaces, restaurant stalls, cafés and a museum.
But the place has its own beauty, and when I was there, not everyone was smoking. There were artists and musicians. A few people were walking their dogs, and there were some families with children.
Approximately 850 people live here all the time, and scores more visit every day, both tourists and locals. It's been attracting all sorts of characters since it opened in 1971 as a half-playground, half squatter-camp on the grounds of an abandoned military fortress. In the 40 years since, the community has built new paths and buildings and its own informal system of keeping order. Posters up all over the neighborhood advertised these community "Common Laws": no weapons, no hard drugs, no violence, no private cars, no bikers' colors, no bulletproof clothing, no sale of fireworks, no use of thundersticks, and no stolen goods.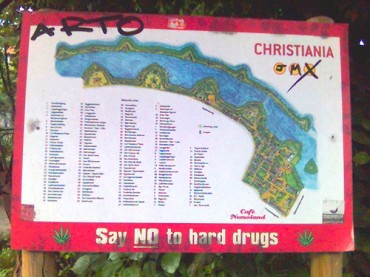 And despite the connotations associated with the word "commune," the 84-acre urban oasis was completely open. We were free to come in and free to leave. No one tried to shoo us away from the folks lighting up. All they asked was that we not take pictures beyond a certain point.
This complete openness to the outside felt odd, because after all, marijuana is not legal in Copenhagen. Possession of a small amount is punishable by fines of at least $400. In May, the national government rejected a push by city council to experiment by making the drug temporarily legal. But the drug's black market is strong and generates 1.5 billion kroner (over $256 million) in annual profits.
From an outsider's perspective, the Danish attitude towards drugs felt more relaxed. I tend to wonder whether a place like this could exist in the United States, outside of occasional events like the annual Boston Freedom Rally.
But maybe attitudes towards weed aren't so different here and there: a recent poll found that 56% of likely-voters in the U.S. were in favor of legalized, regulated marijuana use. In Denmark, 53% were in favor, 22% neutral, and only 25% opposed. The numbers look similar, despite Denmark's reputation as a liberal bulwark and the U.S.'s tendency towards alarmism (see: Reefer Madness, after-school specials.)
And in the past decade, the local government has been less tolerant of the self-described "free city." Open cannabis trade ended in 2004 after police presence in the town increased. In 2009, the Danish court ruled that the land Christiania occupied belonged to the state, and that the residents had no legal right to be there. The property is valuable, and there have been several efforts made to develop it into condominiums at least partially. In April 2011, after closing the gates for several days, community leaders announced plans for a joint-purchase of the state-owned property for 76.2 million kroner ($13 million). That would give the community full legal rights to continue to operate.
But for now, police still watch the commune closely. And perhaps their attention is not unjustified; suspects in a terror plot had been using a residence in Christiania as a club house. But the presence of outside authority in and around the community remains unpopular.
Walking through the Freetown, I asked myself whether places like this would be more commonplace in the U.S. were marijuana legalized, as it has recently been in some states. But I dismissed the notion quickly. It's difficult to say that Christiania presents a vision of what America could be like given legalization, since, like I said, the stuff's not legal in Denmark anyway. And Christiania is more a relic of the future than a vision of the past: in 1971, the government allowed it to exist because it was a social experiment. The political and social circumstances that allowed it to flourish were unique, and the overall liberal political climate of Denmark surely has an influence.
So for now, the Freetown with its fates so delicately in the balance is a novelty. It's a last window into an older, more optimistic world–one that might soon be closed. Before it shuts, it's worth a peek.