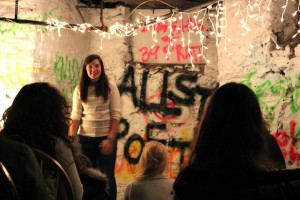 This past weekend on November 17, Speak for Yourself hosted an Allston themed open mic night in a dirty basement (how fitting). Topics of poems ranged from finding sex appeal in science, Allston Christmas, and the plights of another Allston basement party.
Speak for Yourself, BU's one and only spoken word poetry collective, usually hosts performances on campus but decided to move this past week's show to a place from which many BU poets draw inspiration—Allston.
"We had poems about dirty basements read in a dirty basement," said Jay Schwartz the co-president of Speak for Yourself.
"That was just something kind of special. One poet, Shauna Ward, read this poem about having leaky pipes in a basement three feet from your head and you look up and there are those same leaky pipes," he said.
Speak for Yourself, a student group founded seven years ago, is a group dedicated to the art of spoken word poetry.
"Spoken word poetry is poetry by word of mouth. Sometimes it's on a page and sometimes it's just in people's head. There is almost always a beat and almost never a rhyme. It's a really natural way of performing art," said Schwartz.
Although the group caters toward spoken word poetry, it does not exclude other art forms. Schwartz continued, "We're a really open group; a lot of our members will bring in songs that they've written, journal entries they've written, or pieces from a novel that they are writing."
Speak for Yourself meets every Tuesday to host workshops in which students can work on their writing and performing skills, although the meetings are not strictly about mastering the craft.
"We have this big circle of desks and we go around and check in with each other and talk about the peaks and pits of our week," Schwartz added. "It's a great way to get to know people that you would have probably not met. But we're all friends through spoken word poetry. "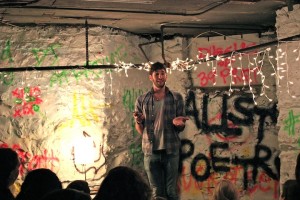 Steph Braman, also co-president of Speak for Yourself, described the importance of attending Spoken Word performances. "I think people should see it because, when it's done well, it's fantastic and thought provoking and compelling," she said. "It takes you into the world of someone else for three minutes."
"People write about heartbreak, oppression, injustice, family problems, friendship problems, and people write about going out and partying and getting drunk," she added. "As a poet, you're really just reflecting on the world around you all the time."
There are three rules in Speak for Yourself. Rule number one: no intros. Rule number two: no apologies. The third rule is different at every meeting. "For example, rule number three would be snaps, or don't be nice, or smile. Just always weird stuff," said Braman.
There is a tendency for people to try and put disclaimers out before they read, explained Braman. "We have these rules so people don't do that. Just be proud of your work. Put it out there and read it with confidence," she said.
The group introduces writers to a community of people with similar interests and provides them with performance opportunities.
"If there are people out there who do spoken word poetry they really should come. Because, why not? Why not be in a community of writers together?" said Braman.
"We are basically a circle of loving people," said Schwartz.
"We are always accepting new members. It's a very organic group; membership is very fluid. We always welcome poets and non-poets and their friends," he continued.
Speak for Yourself's next event will be an end-of-the-semester showcase held in December.
Speak for Yourself meets every Tuesday in the Basement of the School of Theology, B22. The next meeting will be held on November 27. To learn more about the group, you can visit their Facebook page or their WordPress site.