New York Fashion Week for fall ready-to-wear collections never disappoint. These are the shows that explore the limits and variety of what we wear every day–they are brash, unexpected, and sometimes even fantastical, but never so far away from our daily lives that the looks stomping down the runway seem inaccessible or ridiculous. They show us the possibilities of what everyday urban armor can be and where fashion is heading, all in a larger context than their opulent cousins, the couture shows. Needless to say, they are inspiring in a very real way.
Coming up, London, Milan, and Paris will commence their series of fall shows, but this week was all New York. The week's shows, if they can be characterized in a group, showed a common lusciousness; a richness of form, texture, and detail with an attention to tailoring that screams fall and begs to be layered. The shows also spoke to the many identities of today's woman, creating a collection of disparate modern archetypes, all of which are above all else powerful, feminine, and free. Even with Blizzard Nemo interrupting preparations for the shows (there was much sturm und drang surrounding the shipments of fabrics into New York with the inclement weather), fashion would not be stopped.
The Urban Warriors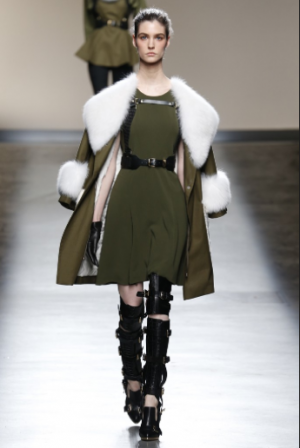 With Leon Panetta's recent decision to allow women to enter into combat, it feels especially poignant that so many shows at NYFW embraced the eternally appealing tough-but-feminine aesthetic of the female urban warrior. This is not a new direction for fashion in the slightest, but this year's iteration feels appropriate because it embraces feminine strength with a mature eye–the lines of these clothes are precise and tailored, their textures rich and carefully chosen in this year's color palette of olive green, warm tan, pure white, oxblood, and black. The vixens prowling the Prabal Gurung runway were armed for city days in hardy furs and leathers, strikingly paired with limpid silks, elegant tailoring, soft knits, and sweet pink cheeks. At Alexander Wang, models strutted outfitted in massive fuzzy mohair balaclavas covering the entire neck and head and ankle coverings to match, paired with multi-textural sweaters and lots of fur and leather. These are practical clothes for protection against the elements, but they are so graphic and unexpected, even monastic, that they are anything but boring.
The Mix Masters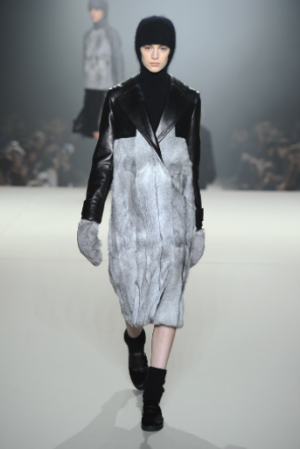 The art of layering is a subtle and essential one. This year's ready-to-wear shows spoke to a whole new level of garment-mixing, pairing pieces with athletic enthusiasm. The turtleneck has shown itself to be the piece of the year, making a huge comeback since their heyday in the '90s and early '00s– who could forget Sharon Stone in a Gap turtleneck under her Valentino gown at the Oscars in 1996, or Gwyneth Paltrow's endless sweatered appeal in those days? Even farther back, who can deny the chicness of Audrey Hepburn in all black and pedal-pushers, a thick cowl of wool around her neck? Unfortunately, this neck-warming wonder has taken on a bad rap, associated with hideous popcorn sweaters and misguided attempts at a beat look. These days, the turtleneck has taken on a new significance, however, especially layered with other items. Take Altuzzara, where a bright construction-orange turtleneck nestled among winter whites and dark furs, or Rodarte, where a simple black one provided a solid base for a satin blouse, a sweater, and a trench coat. It's a luxurious and practical look, far from dorky.
The Ladies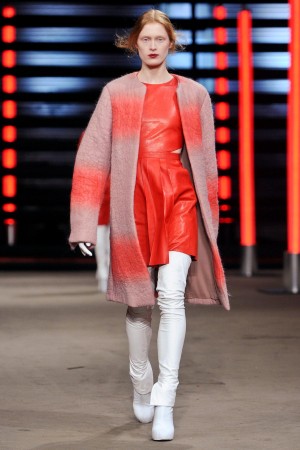 The term "ladylike" has evolved over generations from one of domesticity and nobility to one of professionalism and intellect. This year's ladylike looks have matured further, less ladies-who-lunch and more ladies-who-power-lunch. These are styles that employ some of the conventions of traditional femininity: nipped-in waists, precise tailoring and grooming, and modesty. They experiment in texture, color, and shape to reflect a certain independence and power present in today's working woman. Leopard-print voluminous coats, skirts, and muffs nod to an early-'60s Mad Men fabulousness, but keep things powerful by mixing various animal prints and keeping lines clean and functional. Sally LaPointe sent out one traditionally-shaped, almost "New Look" red frock layered under a knee-length mohair coat that could very well be an everyday getup for a respectable mid-century woman, if the dress weren't made of lipstick-red leather. Bow-chicka-wow-owwww.
The Tycoons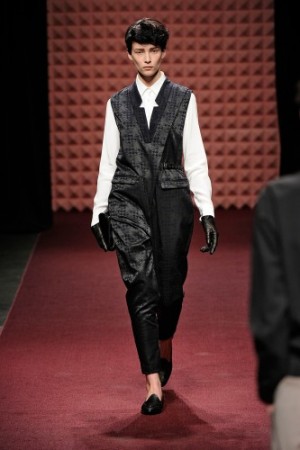 In keeping with the eternal cool-girl flavor that Yves Saint Laurent pioneered with his classic 'Le Smoking' look, suiting was all over the runways this season. Done up in a variety of shapes, textures, and colors, the power suit has emerged as more than just a work outfit–it functions as casual wear, office wear, and black tie simultaneously. Christian Siriano (hard to believe that he was on Project Runway so recently, since he's become such a fixture on the NYFW roster in the past few years) sent a ruby-red-grapefruit-pink suit of glimmering brocade down the runway, and a Hefner-esque black windowpane silk jumpsuit layered with a white tuxedo shirt breezed through the room at Rachel Comey. What's striking about these suits is that they make no attempt to ape at masculinity, but rather play with gender in an emphatically feminine way.
The Wildcards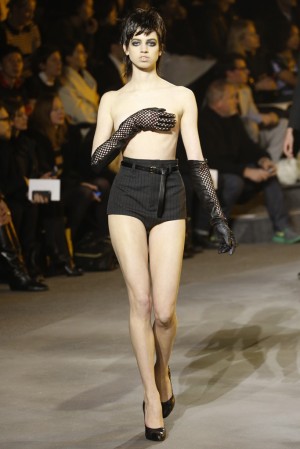 Of course, what fashion week (indeed, what wardrobe?) is complete without a few crazy outliers? Though many of the shows this season were dominated by a tailored, armored aesthetic, playfulness was by no means absent from the roster. Chloe Sevigny for Opening Ceremony's show was protest themed, with models clad in a mix of riot-grrrl duds and early-'60s teen wear carrying hand-painted picket signs with slogans like "time to have sex" and "goat pu**y." The Blonds was a riot of fluffy Brigitte Bardot wigs, furry straitjackets, and one absolutely bananas blood-spattered raincoat. And of course, fashion week would be incomplete without an "OMG!" moment from fashion's number one showman, Marc Jacobs– a smoky-eyed, sex-haired Lily McMenamy (keep an eye on this one) stunned in a pair of high pumps, tailored shorts, gloves, and nothing else. Though bare breasts are a common sight on most runways, this one was a jaw dropper.
Only time will tell how this week's shows will influence the way we dress in our daily lives in the months and years to come. Until then, we have London, Paris, and Milan to look forward to.