The Food Activism & Justice lecture featuring the Food Empowerment Project (FEP) and key speaker/founder Lauren Ornelas, was more than just a discussion about environmental and social justice issues. This was a call to action—to support the animals, the environment, and the disempowered communities who do not have a voice of their own.
FEP serves to stop all forms of oppression when it comes to food choices. Whether it is taking on the dairy industry, the California farm system, or chocolate companies, FEP works diligently throughout the year on legislation and outreach through a group composed solely of volunteers.
Animal abuse (specifically chickens, hens, and cows) on factory farms remains rampant throughout the U.S., with complaints of cramped living spaces and unsanitary conditions for the animals to live in. These are only a few of several criticisms that animal activists have against big food industries, especially the dairy industry.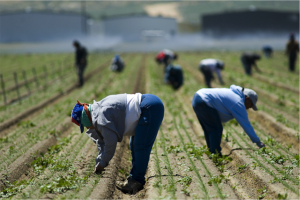 Ms. Ornelas passionately spoke of the mistreatment of California farm workers on labor camps, from which they are forced to move during certain months, producing a familiar image illustrated in John Steinbeck's Grapes of Wrath. This displacement produces a ripple effect for the families, including lots of moving and preventing their children from finishing school. FEP is currently working with the California government to pass legislation in an attempt to protect the farm workers.
FEP also takes on the ethics of one of the most heavily desired and produced food products on the market: chocolate. FEP makes it a priority to uncover the truth about how chocolate is made. "Just because it's vegan does not necessarily mean its cruelty free," said Lauren Ornelas in a statement that held much truth to it. She is referring to the failed validation of the certification system for chocolate, which "cannot be trusted."
These topics only scratch the surface of the numerous issues that FEP tackles on their website. In the end, Ms. Ornelas addresses what the community can do as actors of change. First, buy organic whenever possible. Second, buy only ethical chocolate. If you are unsure of which chocolate to buy, FEP provides a very thorough list on their website of companies that they recommend and do not recommend. Third, echo the needs of farm workers and, more importantly, speak out about food injustices. And as for a personal change, consider going vegan or vegetarian.
"I feel like in many ways there's some negative energy permeating meat because of the immense cruelty involved in our factory farming system," states Rachel Atcheson, leader of the BU Vegetarian Society and intern for the Humane League. "Since I've gone vegan, I no longer have that negative energy inside me."
FEP's motto "Food is power" accurately emphasizes the importance of our diets. If people want to make a difference in the world, their first step can be as simple as their daily food choices, a decision that directly impacts not only our future health, but the sustainability and preservation of our environment.
For more information on the Food Empowerment Project and their dedicated initiatives, or to volunteer with them, please visit their website, http://www.foodispower.org/index.php.