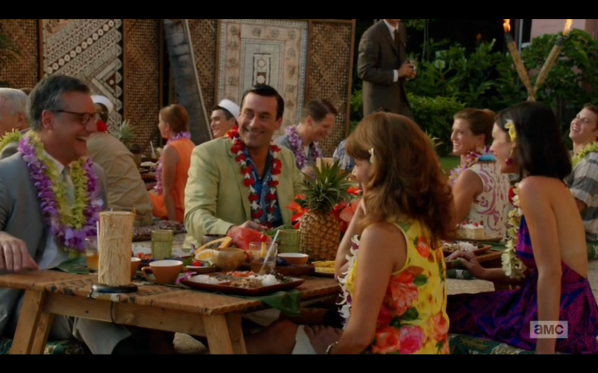 "They ruined it, they ruined everything. I can't imagine it getting any darker."
The MadCap is back, and the world of Mad Men is a dark one–and getting darker still. Teetering at the edge of 1966, we see New York beginning to appear as we know it did in the 1970s–decrepit, violent, and failing. The image of corpulent, fussy Betty in her sumptuous brocade coat stepping into a grimy shooting gallery and teaching a huddle of unwashed how to make goulash pretty much sums it up: New York is not the shining, glamorous place we remember from previous seasons. The offices of Sterling Cooper Draper Price are cluttered and dirty, the costumes are dark and nubby, and the weather is frightful.
But that's not where we pick up. This two-hour season premiere episode kicks off in sunny Honolulu, where the colors are bright and the knowledge of the horrors just overseas in both directions are swiftly shimmied under the rug. The West Coast is rapidly becoming the place to be. Don and Megan relax in paradise; Don reads a borrowed copy of Dante's Inferno. Don, Megan, and friends lounge in pea green, bougainvillea pink, and banana yellow around exotic purple poi ("Don't bother with that, it's wallpaper paste," mutters the hotel honcho hosting Don and Megan). Megan learns the hula from the emcee. Don puffs on his cigarette and watches, the way we remember him watching Betty descend hotel stairs. She's as much a spectacle as she is his wife.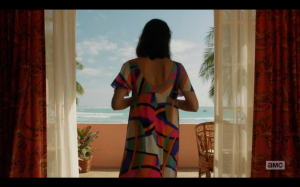 Megan is really coming into her own as an actress, being recognized by a fellow vacationer from her gig on an afternoon soap opera and proving, once again, that she excels at everything she does. (Though that doesn't erase the memory of her drunkenly pleading Don for sex at the end of last season, whimpering, "Please. It's all I'm good for.") She is dressed in bright colors and feminine shapes as she always has been, but her Pucci caftans and rainbow bikinis–complete with two joints bought from a surf instructor stuffed in the bottoms–are a far cry from her efficient office wear of the past. She's in her prime, and her success is feminine. (Like Bobbie Barrett said: "Don't be a man. Don't even try. Be a woman. It's a powerful business, when done correctly.") Perhaps this is why she seems such a threat to Don, as she's often shot from below and alone in a frame.
Hawaii also introduces a brand new, disturbing element of the era. When Don sneaks out of his room in his mint green blazer to ruminate over another drink, he meets a young soldier, in Hawaii on leave and about to get married. He is young, drunk, dressed in feverish yellow and Agent Orange. He asks Don about Korea. His friend is passed out on the bar, so he asks Don to give his wife away. Mad Men has only edged around the Vietnam war until now, but here it is, and it's terrifying. "Soon I'll be the one who stays up at night and talks to strangers," says the young man, more presciently than he understands.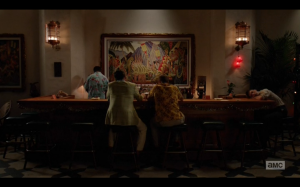 In New York, death is everywhere at Christmastime. Don and Megan walk, heavy-coated, into their building and immediately flash back to a time when their doorman was seized with a heart attack, dead for a moment. In the present Don whispers to him, "When you died…what did you see? Was it like hot tropical sunshine? Did you hear the ocean?"
At the Francis home, Betty is as bitter and self-involved as always, but she has reached new levels of malicious now that she can no longer use her looks as a tool the way she used to–batting her eyelashes no longer works to cancel a reckless driving ticket, and she envies the way her husband and son watch a fifteen-year-old musical prodigy play violin to such a degree that she spews venom wherever she goes. "She's just in the next room. Why don't you go ahead and rape her?" she says with a smile.  "You said you wanted to spice things up. I'll hold her arms back. Will it ruin it if I'm there?" She is dressed in rich fabrics but no longer dabbles in youthful silhouettes. Later, she takes pity on what turns out to be a struggling, intelligent young woman, but she's motivated by envy and selfishness. Sally is fourteen, lanky and Fair Isle sweatered, and closes the door on her mother's face as she gabs on the phone about boys.
At the offices of SCDP, mustaches and beards have spread like an epidemic onto the faces of the staff, including Stan, who is as shaggy as a bear. Paper snowflakes haphazardly line the walls. The filing cabinets are brown and over-full. Joan, now a full partner, stands independent in a company photo in a bright purple, ruffled dress that looks old-fashioned now. The photographer still calls her "gorgeous," reminding us that she is still heavily sexualized and commodified (recall the tragic circumstances by which Joan became partner), but Joan is steady on her two feet.
Peggy is fully integrated into her career working for Ted Chaough, emulating the best elements of Don Draper while remaining stable and in love with dear Abe (who, by the way, has sprouted a magnificent crop of '70s man hair). The world can't get in her way–Peggy spends most of her holiday dealing with an ad campaign deemed controversial because it inadvertently references the practice of some GIs in Vietnam taking the ears of fallen Viet Cong soldiers and wearing them as trophies, another sign of Vietnam swiftly entering public consciousness. The ad reads, "Lend Me Your Ears." Peggy is magnificent under pressure, thinking practically and finding a better ad (not just a solution) like no one else but Don can. She still talks to Stan on the phone while she works, but she's well established. She wears deep blue with green buttons and plaids, somewhat thrown together but clearly more expensive than what she used to wear.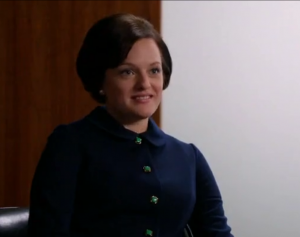 Roger, meanwhile, is a mess. Though the death of his mother seems to barely faze him, the death of his shoe shine man breaks him down. At his mother's wake, he screams out, "This is my funeral!" as Don vomits in the corner. In his psychoanalyst's office, he delivers one of the show's most memorable rants yet, explicitly stating this episode's theme: "You see a door. You think, 'What's on the other side?' And then you open that door, and then you say, 'I think I'm going to go over that bridge this time. I'm tired of doors.' Finally you get out of this thing and you realize that's all there is–doors and windows and bridges and gates. And they all open the same way, and they all close behind you."
It's notable that in this episode, we see Roger in multiple blue suits and Pete in grey suits–usually, it's the reverse. There has always been a tense link between the two, as they are account men, entitled, raised in wealthy environments and smooth-talking, but Pete has always had to work at his craft. Now, they are almost interchangeable.
As for Don, he's the same as he ever was–same dark suit, same skinny dark tie, same big gray jacket. Hawaii may have dressed him up in Easter egg tones, but soon he's back in New York and back to old habits–hello, Lindsay Weir (Linda Cardellini)! It's interesting to note that Sylvia is an entirely new type of woman for Don–neither doll-like or icy like Betty, nor lean and sprightly like Megan, nor wild and limber like Midge, nor powerful like Bobbie. Sylvia is reserved and stylish in nudes and blacks with red lips, but she's warm with Don in a new way. This new relationship with Sylvia and her apparently good-hearted doctor husband has potential to go horribly wrong.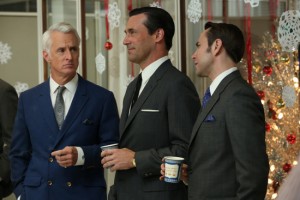 For the first time, Don has started to show signs of fading in his prowess. The ad he presents to the Sheraton calls clearly back to when he shed his clothes and walked into the water in California a few seasons back. Now, as the others in the room commented, it seems a death wish. Like the ad's morbid tagline, this episode is a "jumping off point." It only gets darker from here, and we know it.