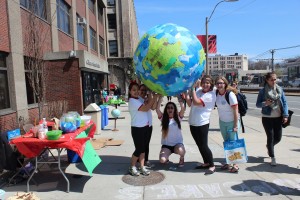 Earth Day may not be until April 22nd, but that didn't stop the College of General Studies Community Service Club from hosting their fourth annual Earth Day West Campus Block Party in the bright sunshine on April 18th from 12 to 2 pm.
A stretch of Comm Ave from CFA to Student Health Services was taken up by the animated and encouraging group of students, along with their sponsors and outside supporters, all working together to spread a message of sustainability to the BU community.
A number of small stalls were set up, each a different part of the larger message, which went all the way from saving water to reusing clothing. Some stalls featured free giveaways or information about a local business, including some that were from specific BU departments such as FitRec and SHA, and some that were organized by CGS Community Service Club members.
Some of these featured raffles for various prizes, all donated by local businesses in support of the event. To enter the raffle, passersby would answer a few questions about sustainable behavior, varying from a guess on how much water the average college student uses per day to what students do to sleep sustainably.
One of the most eye-catching student stalls was that of a large, paper mâché globe, which people were invited to help complete and 'leave their own mark on' with the aid of some glue and colored paper, creating an idea of a world contributed to and created by all.
"The goal is make people more aware of the world around them," commented Heidi Chase, Faculty Advisor for the CGS Community Service Club. Indeed, buying second-hand clothing may not immediately make one think of sustainability, but the West Campus Block Party aimed to fix that.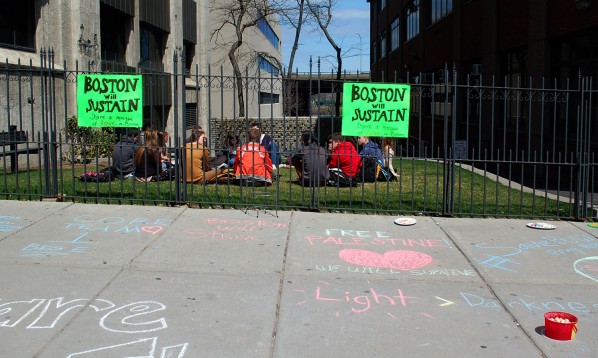 The stall at the very center of the Block Party was perhaps the most important. In light of the events that took place at the Boston Marathon on April 15th, the students organized a project called "Boston Will Sustain," laying out colored chalks and encouraging anyone who was willing to write a message of love to Boston on the sidewalk. The CGS CSC began by writing a few definitions of what it means to sustain, and the BU community took care of the rest.
In the midst of the city's current tragedy, the West Campus Block Party, the CGS CSC, and the "Boston Will Sustain" project were a welcome reminder of what can be achieved when people work together.
Chalks will be available throughout the day on Friday, April 19th outside the College of General Studies for those wishing to contribute to the "Boston Will Sustain" project.