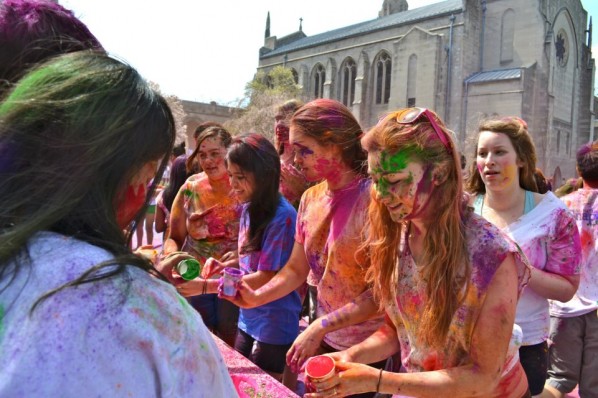 On Saturday, a vibrant color scheme will take over the Charles River campus as the Hindu Students Council hosts the annual Holi celebration.
The Hindu festival of colors originates from a religious story recalling the battle between good and evil, and is also a celebration of springtime. The celebration involves participants throwing brightly colored powders and water at one another while dressed in white. HSC is also providing food and music for the completely free celebration.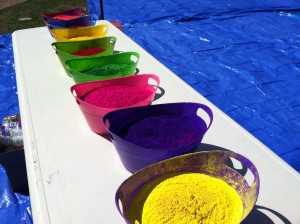 While Holi has been held on the BU Beach the last two years, the event will instead be held on the Cummington Street Mall due to the Law Tower construction this year, according to HSC president Akshata Sahasrabudhe (CAS '13).
Before the last three on-campus celebrations, Holi was held at Dexter Park in Brookline. Since moving the Holi celebration to campus, Sahasrabudhe says attendance has increased significantly. While the Facebook event page for last year's celebration garnered upwards of 400 RSVPs, Sahasrabudhe reports that over a thousand students attended. This year, nearly 1500 people have RSVP'd over Facebook.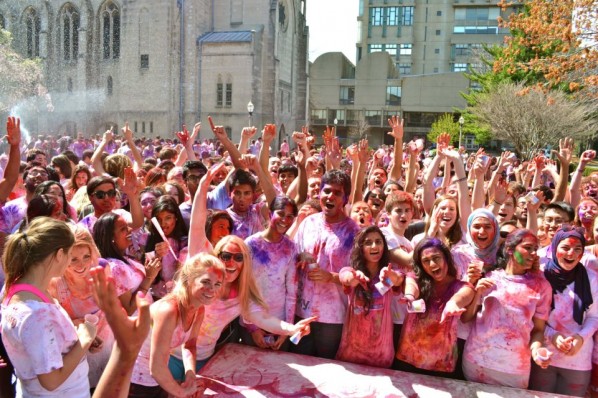 However, the number attending isn't as important as the meaning of the Holi.
"It's important for us to emphasize that coming to Holi isn't about just throwing colors," said HSC coordinator Anubhav Nangia (SAR '15), who cited the religious and cultural implications of the holiday as the true purposes of the celebration and students' fun.
HSC seeks to share with students the derived story of Holi, where the evil king Hiranyakashipu sought everyone's total worship, though his efforts failed when his son Prahlada refused and was protected from the king's wrath by the good Lord Vishnu, to whom Prahlada was devoted.
In the aftermath of the attacks at the Boston Marathon that left three dead and over a hundred injured, the story of Prahlada's survival is one of hope and encouragement, and resonates with Vicky Hsu (CAS '16).
"I think it makes the event more applicable to what is going on currently because we've been affected by something so horrible," said Hsu. "I wouldn't say [it would give] more reason [for me] to go, but if I were already going it would make me [want to] celebrate more."
Holi is a vigilant reminder, Sahasrabunde adds, that "no matter how much evil there is in the world, good will always triumph."
Holi will take place on Cummington Mall on Saturday, April 20 between 2 and 4 p.m. Find the Facebook event details here.