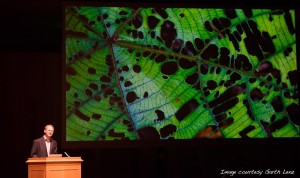 Making an enormous auditorium like the Tsai Performance Center seem intimate may be difficult to imagine, but this was nonetheless achieved by The Crossroads Project at 7:30 p.m. on April 23.
With dim lighting and quiet words to highlight the powerful ideas being discussed, The Crossroads Project was jointly hosted this past Tuesday by the BU Arts Initiative, the BU Sustainability office and the Dean of Students. This union of three different BU groups helped bring greater attention to one of Crossroads's central ideas: the importance of interconnectivity.
The Crossroads Project was a performance spanning across multiple disciplines, including science, visual art and live music. It consisted of a lecture given by physicist and educator Dr. Robert Davies, music played by The Fry Street Quartet and a collection of photographs and paintings displayed on a projector behind Dr. Davies and the performers.
It had, at its heart, one message: it is time to believe what we know. Dr. Davies repeated this phrase numerous times throughout his lecture, which highlighted the importance of global sustainability, climate change, and the choices human beings face in regards to the future. This central idea of Crossroads was elevated by the art that surrounded it, and it was this artistic component that lodged it into the audience's minds.
Davies spoke slowly and clearly, seemingly to allow every word and warning he gave to have time to sink in. There was an urgency to his words, but also a deep hopefulness.
The lecture was broken up into various parts, each addressing a different part of the greater message of sustainability. While Davies spoke, a slideshow plays with various photographs and paintings relating to the topic. Between each section of the lecture, The Fry Street Quartet played, because as Davies said, "Music is the mental stimulation of human life; it makes you think."
The Fry Street Quartet played emotionally and poignantly, while a painting representing the topic on which Davies has most recently lectured was displayed behind them. It was not clear whether Davies's words inspired the relations drawn between the music and the topic or whether the music itself was powerful enough to be able to reflect things like water, soil, sustainability and the future.
It was the marriage of music, science and visual art that made The Crossroads Project so mentally stimulating, just as it intended. Each part of the performance highlighted and brought out another, carrying home the message of sustainability all the more strongly.
Crossroads, unlike many other projects dedicated to sustainability, presented solutions. While reminding us of the price we pay for the luxurious and unsustainable life we currently live, it also strove to create hope for the future.
Davies told us that "science has given us knowledge" and reminded us that we live in multiple, interconnected and overlapping biospheres with every other living thing on Earth. However, he also told us that thought we know these things, we do not act on them, ever worsening our planet's prospects for the future. We can no longer afford to continue living the same unsustainable lifestyle that we do now. Our planet as we know it will not survive. We see and hear of the effects of our actions all around us, every day. We know what is going on.
And so, Davies said, "It is time to believe what we know."
The Crossroads Project taught the audience that the first step towards change for our planet is mental change, and reminded us that the campaign for a sustainable human lifestyle is not about sacrifice, but about enrichment. Re-imagination of a potential future must occur before we can move forward. It is we who have to make the move, because it will not be made for us. A huge impulse is required for real change to be acted for our future and that of our children. And so, it is time to believe what we know.
For further information about The Crossroads Project, its performers, message and development, visit http://www.thecrossroadsproject.org/.