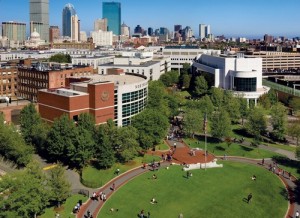 This week we have an oh-so special edition of the column. It's more of a "He Doesn't Even LIVE Here." This past summer I was fortunate enough to have spent ten weeks housed in Northeastern University's West VIllage complex, which is essentially the Student Village of that side of the city. Many asked me why I came to this decision, as you're probably about to ask me now. The answer is simple…air conditioning. When I read on the internet that Boston University's housing for summer interns placed students in South Campus apartments with no central air and no hopes of attaining an air conditioner, I ran for the hills. I applied to MIT and Northeastern housing and upon hearing back from the latter within days, formally accepted a spot in their "enhanced rooms."

With a full kitchen, modern bathroom, ac units covered by a home warranty (read here for details), and temperatures below 70 degrees, I was in heaven—Husky heaven, that is. That sounds kind of inappropriate, I apologize. After uploading the obligatory Instagram picture of my NU identification card, I suffered the blasts of "traitor" comments, but I'll tell you this much—scrolling through them without a bead of sweat dripping from my forehead was a glorious experience. What was beautiful about the whole situation was that none of the students in West Village B were students of Northeastern. All summer interns were from schools either outside of the Boston area or within the city. This provided many opportunities for friendly interaction with non-Bostonians. For instance, as I physically pushed two 80 lb boxes and a large metal fan into the lobby—because yes, Northeastern couldn't spare a moving cart—I ran into a neighbor who was a student in New York City. She valiantly took on the task of shoving the lighter of my boxes into an elevator and through my front door. I never saw her again for the rest of my ten week stay, but that's beside the point.
Now, I'm all about invading dining halls and I will say that I had hoped to be admitted to Northeastern's International Village dining hall, having been inside before and recalling the modernistic beauty and food on par with BU's. However, I was only granted admission to a neighboring dorm's dining facilities, which weren't toO shabby either…but no IV. This proved to be one of the best things that happened all summer, however, because while I managed to get the most out of my partial dining plan, I took the learning opportunity of having access to a full kitchen and taught myself to cook. You heard it here, folks! I will say that this led to many interesting escapades, though. Like the time I attempted cooking steak on a cookie-sheet and succeeded after spilling half of the marinade on the kitchen floor. Or the time I forgot to add milk to a batch of mashed potatoes…don't try it. Why would anyone ever? My roommates did, however, appreciate my ability to absolutely tear through boxes of chicken nuggets and bagel bites. It was rather impressive.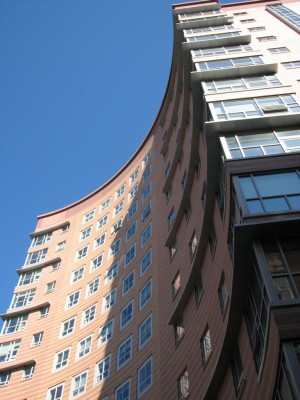 After my ten weeks were over and all of my boxes were packed and ready for storage in an unit with a low cost storage services
I was absolutely heartbroken to abandon my temporary home. The reason for this is simple…air conditioning. It was a luxury I'd not see for at least another year as I'd already elected to remain in a dorm that does not—and will never—provide central air to residents. Holy heatwave, do I ever miss that air conditioning. I had learned a lesson in moving out, however, and enlisted the help of my trusty roommate to aid me in shoving boxes back into the elevator and into the back of the UPS truck. No more back-aches for me! As I spent that last night in my utterly empty room, I bonded one last time with the thermostat set comfortably at 68 degrees, and bid sweet 202A farewell. I may be a Terrier, but because of the ten weeks I spent in that room…I'll always have a little Husky in me.