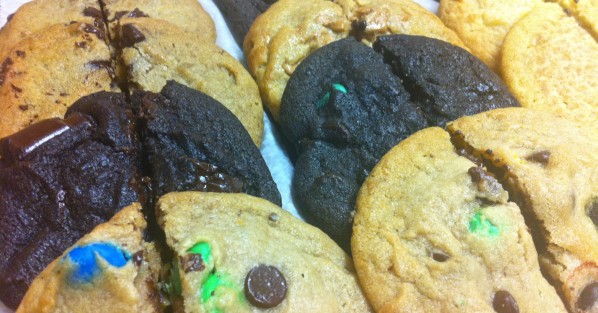 It all started with one simple, timeless concept: freshly baked cookies. Back in 2003, Seth Berkowitz started delivering homemade cookies by bike to his friends all over UPenn's campus. Now, Insomnia Cookies, the late-night cookie shop that delivers until 3am, is in the process of opening its 37th store. In the past two years, the number of Insomnia stores has doubled to extend throughout the midwest and east coast.
Stepping into Insomnia Cookies, the glorious scent of cookies baking makes it nearly impossible not to ask for at least one. It's no surprise that the chain, which opened its newest Boston location last week at 708 Commonwealth Avenue — a convenient 20 second walk from Warren Towers — has been met with booming success.
Sophomore David Lowe was on an Insomnia kick since day one. "I stopped going the last few days, because I had an intervention with my friends," he confessed, stating that he even went twice in one day. "I keep going because I'm bored, and plus they're so nice! Every time I try to leave, something keeps pulling me back. I just love that place."
Thank Boston's thirst for late-night munchie options, the 12+ cookie flavors, or the small 99 cent delivery charge, but opening night here at BU brought in at least 15 delivery orders from Warren Towers alone. "I've never seen that amount in one day, let alone opening at 6pm," noted Assistant Marketing Manager Kaitie Notarianni.
Although the store will not be accepting BU Convenience or Dining Points, Insomnia Cookies is still giving back to student groups in big ways, in addition to feeding the addictions of many. First, groups can apply for a "Donation Day." This is similar to those brightly dressed girls you see handing flyers outside of Zinga, or those Facebook event invites to eat at Uno's in support of some acquaintance's campus involvement. The difference? Well, it's a cookie delivery. Enough said. Insomnia will return a whopping 15-20% of profits for the 16-hour day back to the student group. With delivery until 2am, it won't take much coercion to get hoards of friends calling in orders and making those profits.
Given BU's hundreds of groups and dwindled SAO funds, the Insomnia Cookies team knows how much student groups need help, and they're ready to dish out some heavenly treats to make up the difference. Planning a charity event? Insomnia would be thrilled to donate some cookies to the cause. Have a group meeting that's lacking some sugar? Organize something with our new best friends over at 708 Comm. Ave. Have an obsession with Insomnia? Get paid to be a Campus Rep. That's right, make money for simply pushing those delectable desserts.
Is this central campus's own version of Extreme Pita? Our prayers have been answered, and never again will we suffer from midnight munchies.