Warm, sunlit streets. Rows of stalls boasting everything from fresh baked cookies to fresh goat cheese. A stage of nutritionists and chefs showing all of Copley how to eat better. The "Let's Talk About Food" festival, which has been hosting numerous presentations since Thursday, had it's main day of operation on Saturady. Copley Plaza was full to bursting with chefs, foodies, and food trucks (and even one food school bus), coming together to talk about that deliciously universal passion: food.
One of the festival's main sponsors this year was Whole Foods, as was evident from the numerous local Boston establishments. Vendors included Asulia Foods and Fancypants bakery, both of which were not only sponsored by Whole Foods, but they also sell their products in Whole Foods supermarkets. Given the crowds swarming Fancypants' stall for some of their apple cider cookies, it's safe to say that they were a hit.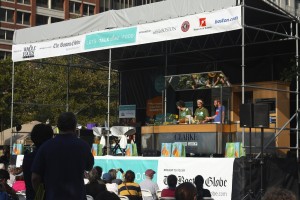 Wrapping around the corner were hosts of food trucks, from big brand names such as Orange Leaf to more local establishments such as "Kick Ass Cupcakes," which offers  flavors as unusual as the Mojito (an oh so right blend of rum, sugar cane, and fresh mint). Bon Me, winner of Boston's best food truck in 2010, was also present. Perhaps most interesting was "The Food Truck," a re-purposed school bus that now travels Boston as a sort of mobile farmers market.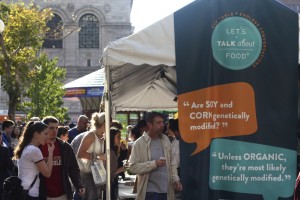 The centerpiece of the whole event took place at the doorstep of Trinity Church. All day long there were demonstrations held on stage, from how-to guides to discussions on different diets. I caught part of the Mediterranean Diet panel, where Chef Ana Sortun cooked up rice pilaf and talked about the benefits of considering new eating habits. Among the things to keep in mind was her tip that "onions are the vegetable bacon." Wise words, wise words.