At a press conference in 100 Bay State yesterday morning, Menino announced that after five successful terms as Mayor of Boston, he will soon join Boston University as the co-director of a new program called the Insitute on Cities (IoC), which will address issues facing urban communities in coming years.
Sitting next to President Brown, in a room packed full of students, staff, and media, Menino was all smiles. "I am honored to have this opportunity to continue to help American cities thrive," he said.
Menino will join the university in Februrary. Though he will not teach lectures, he will have a cozy office within one of the brownstones along Bay State Road, and he half-joked with students about the possibility of having office hours.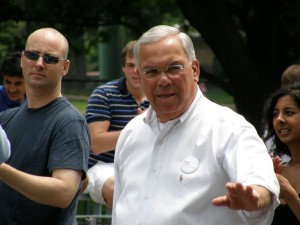 Rather than teach, Menino's time will be spent working with director of the IoC, CAS Political Science Professor Graham Wilson, and other team members to research and create new solutions to urban problems.
The IoC takes for granted that in upcoming years, as the population continues to grow, there will be a massive increase in urban populations. Brainstorming and preparing for this is important. As Brown said in the press conference, " My hope is that the Initiative of Cities will help cities around the world be successful in the decades ahead."
Long term goals for the IoC are big. The center wishes to become a leading global think-tank for urban development. It will combine city leaders and scholars from all over the world, blending the theoretical and the pragmatic to approach to urban problems such as resource availablity, sustainability, technology, public health, and education. A request is also in the works for a new lab building for the IoC to use.
Given Menino's array of offers from various schools in the Boston area, it is telling that he chose BU. Publications such as the Boston Herald have questioned the ethics of Menino's appointment, referencing former mayor Kevin White, who got into trouble after taking a job with BU and then helping the school build a new science center.
Yet at the press conference, it was apparent from both Brown and Menino that this appointment is not a cushy way for Menino to retire, but a mutually beneficial partnership. Menino, who has a track record for implementing positive environmental, economic, and developmental initiatives in Boston, wants to bring a practical point of view to the resources and thinkers at BU.
Students are excited by the prospect of Menino's presence on campus.
CAS senior Ben Seuhler said that it seemed like a good match. "Menino and BU are obviously excited about the possibilities of the IoC, and it sounds awesome. Seeing Menino getting lunch in the GSU will be awesome too."
SMG sophomore Alissa Manjy also offered her perspective. "I think it's awesome that he's coming to the school," she said. "I'm an international student, and one of the reasons I chose BU is because I liked that it was so connected to Boston. So it's cool to see further collaboration between BU and the city."
Mayor Menino worked to make Boston what it is today—a sustainable center of commerce and innovation. His work at BU will further that goal.
We welcome him (prematurely) as a new Terrier!