Last Friday night while Katy Perry was dancing on tabletops, taking too many shots, and kissing someone who she promptly forgot, students gathered at the College of Communication for a decidedly calmer evening. Kicking off this semester's Cinematheque series, the Film and Television department hosted a special viewing of Rubberneck a film by Garth Donovan and Alex Karpovsky (star of the HBO series Girls) followed by a Q & A session with Donovan.
Curated by Dr. Gerald Peary, an accomplished film critic and professor at Suffolk University, the Cinematheque series offers students the opportunity to screen innovative indie films and engage in conversation with the people who make them. Peary introduced Friday's speaker Garth Donovan, a Boston based filmmaker and actor whose movies such as Phillip the Fossil and Everyone's Got One, have gone on to win awards at SXSW and accolades in The Boston Phoenix. Donovan co-wrote the screenplay for his most recent film Rubberneck with Karpovsky who also played the lead role.
With a very brief preamble, Donovan insisted that the movie would "speak for itself" which turned out to be extremely accurate. Following the life of Boston area man Paul Harris, a technician at a lab on the outskirts of the city, Rubberneck explores the struggles of interpersonal relationships and the deep inner pain of rejection. A highly experimental film, Rubberneck focuses less on the dialogue between characters and more on the emotions, tension, and mood of a scene. This effect placed more of an emphasis on music and acting rather than writing which made for quite and interesting viewing experience.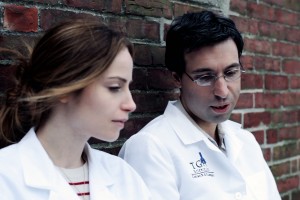 Following the screening, Donovan spoke about the unorthodox techniques he used saying "we wanted it to be more about the music and the feelings and less about the plot" adding that it was their love of music that brought him and Karpovsky together in the first place. "It was really more of a character study" he insisted, describing his writing process as "something you have to be ready to go to war with."
Citing Psycho and other classic psychological thrillers as inspiration, Donovan mentioned that the film was a collage of moments from his life (one scene was filmed in his basement) and Karpovsky's experiences with rejection. He added that the "based on true events" tag in the opening credits "should be taken lightly." Despite this disclaimer, the familiar images of Coolidge Corner and other iconic Boston locations all resonated with the audience who let out whispers of recognition periodically throughout the film.
So what's next for Garth Donovan? "We're trying to make an awesome shark movie" he laughed "this one will deal with the fear of the unknown." In the meantime he plans to continue his house painting business noting that it helped him get some of the more impressive shots for his films. At one point, Donovan made a deal to secure a helicopter saying, "We'll come and paint your rooms if we get 2 hours." All of which seems pretty appropriate for this experimental filmmaker.
For more information about the Cinematheque series, read Monica Castillo's article here. For a list of upcoming films, visit the official website.