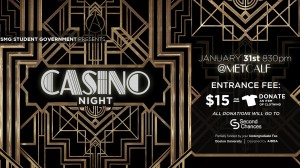 There is endless appeal to wealth and glamour. The idealistic traits of our consumer culture attract us to the American Dream and repel us from its decaying moral values. Extravagance and greed keeps us constantly intrigued and create a fun time, making The Great Gatsby the ideal theme for SMG's 14th annual casino night.
The Metcalf Auditorium on Friday night was transformed into a casino with tables of blackjack, Texas Hold'Em, and poker. The room was filled with guys and girls decked out in their 1920's attire. High heels, black tights, cocktail dresses, and iconic feather decorations were fabulously displayed on the female attendants.  The cool atmosphere allowed for students to mingle with one another and to meet new students. Food, raffle tickets (i.e. a free night at the Commonwealth Hotel), and a band playing in the background, added to the excitement of the event.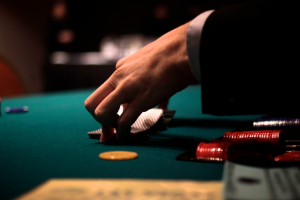 However, unlike the decaying morals we see with Gatsby, Daisy, and company, BU students from SMG wanted to give back and leave a positive impact on the Boston community. Students had the choice to pay $15 or to donate an article of clothing (or more) to Second Chances for a ticket. The goal was to raise 2000 pounds of clothing to Second Chances. Second Chances is a non-profit, Massachusetts based organization, that donates clothing to those in need. The choice of organization was perfect; students had the opportunity to get rid of clothes shoved in the back of their closet, enjoy some fun gambling (not with real money), and feel good about giving back.
"We are lucky enough, as business students, to have many opportunities that can lead to a bright future. It is important for us to give back and support organizations who help create brighter futures for others as well," said Marina Mertens (SMG '14) Executive Vice President of SMG Government's Student Affairs.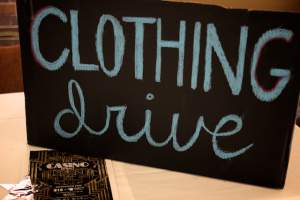 SMG is currently celebrating its centennial year and has a lot of achievements to be proud of. According to a Bloomberg BusinessWeek ranking of United States undergraduate programs, BU School of Management (SMG) placed 23rd overall and the average base salary of SMG class of 2014 students is $50,555. To celebrate SMG's centennial year, "SMG Gov. has decided to give away 100 promotional items to each class at different events. For example, the senior class slate gave away glass cups at their 'Cheers with the Professors' event. The junior class made baseball caps that were given away during last semester's 'Core Break' social event," said Marina.
Though you may not have had a good hand that night, at least you know it was all for a meaningful cause. SMG's secret to success must have to do with students not only being business-savvy but also being appreciative of the community around them.