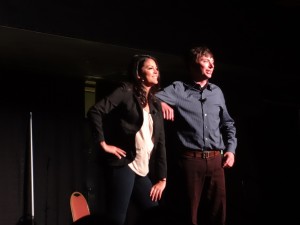 Russian love letters, unwanted guests, weird little cousins, and eager office ladies were just some of the eclectic bits brought to the stage this past Saturday courtesy of comedy couple Cecily Strong and Mike O'Brien. Performing for a packed house, the new Weekend Update anchor and longtime Saturday Night Live writer-turned-featured-player delivered laughs in the form of improvised scenes, character bits, and even a musical performance. The opening comedian, Kiley Fitzgerald from Improv Asylum, kicked the night off with a hilarious stand up set followed by an umbrella twirling, high school color guard performance that had the audience in stitches.
But while Fitzgerald provided a more traditional, anecdotal approach to comedy, Strong and O'Brien's act was largely made up on the spot and drew laughter from unexpected moments. From a bizarrely incomplete character based on a middle aged lady who gets bumped on the street to an impression of WNBA superstar Rebecca Lobo substitute teaching, even the most abstract bits garnered a collective roar from the crowd. But where did this come from and what is the attraction of this alternative comedy?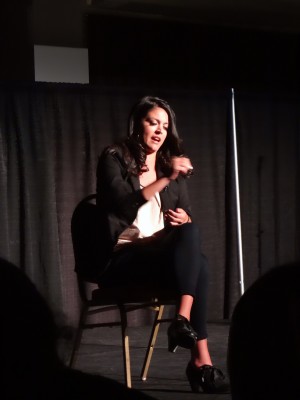 The late 80's and 90's saw a boom in improv comedy specifically in New York with the advent of venues such as the Upright Citizens Brigade theater (founded by Matt Besser, Matt Walsh, Ian Roberts and Amy Poehler). As opposed to comedy clubs which featured stand up comics, improv theaters favored spur of the moment, entirely made up, comedic acting driven by surreal events and scene building.
Other forms of alternative comedy came with comedians such as Demetri Martin, who is known to incorporate PowerPoint presentations and humorous drawings into his acts, as well as Tig Notaro, who, in one bit, pushes a stool around on stage for well over five minutes. Patton Oswalt, a noted master of alternative comedy, has defined the concept as "comedy where the audience has no preset expectations about the crowd, and vice versa. In comedy clubs, there tends to be a certain vibe — alternative comedy explores different types of material."
That may very well be why those gathered in Metcalf Hall on Saturday night equally enjoyed a performance of "A Whole New World" from Disney's Aladdin and an impression of an eager musician playing the spoons, along with a few improvised scenes and games. The movement towards more absurd humor does, however, have its skeptics. Will Dowsett (COM '16), a member of the BU improv troupe Liquid Fun, has said that "alternative comedy isn't funny" despite the fact that he regularly performs with what many consider to be an alternative comedy group.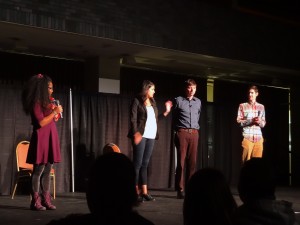 But with the rise of up and coming comedians such as Kate Berlant who performs completely improvised sets in the style of self help gurus, and Hannibal Burress whose deadpan tone makes even the most mundane statement hilarious, the truth remains that alternative comedy cannot be ignored.
As Strong said during her performance, "we're going to try some things out and see what happens" and judging from the crowd's reaction, it was a resounding success.
For some great funny people on campus check out Liquid Fun, the Callbacks, Sons of Liberty, Slow Children At Play, TFE or talk to Ross Huston. Also feel free to tweet this article @cecilybecily and @MikeOBrienXOXO.