"What if," a Liquid Fun member said nine years ago, "we get a bunch of comedians and stick them together in a room for 24 hours to promote a charity?"
Contemplative silence, a few glances at one another, a couple seconds spent musing about the possibilities; a chorus of "sure,"  "sounds great," "yep, why not," perhaps one sane person's "NO," and voila!—the origin story of Liquid Fun's 24-hour Comedy Fundraiser.
On Saturday at seven o'clock in BU Central, the aptly titled "Running on Empty" Comedy Marathon began and continued with 24 hours full of improv, coffee, sketches, stand-up, late night rambles, sex jokes, laughter, and balls being thrown.
Liquid Fun began the show and graciously hosted more than 25 other comedy groups, interspersing acts from BU and the greater Boston area.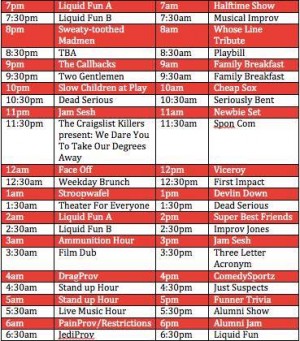 From Dead Serious (an all girls group who came to BU from Wellesly) to Slow Kids' sketch comedy, from Two Gentleman (which, as the title suggests, is an improv group consisting of two gentleman) to "Jam Sesh"—a mash up of performers from all the improv groups at BU—the audience was lucky enough to experience comedy of all shapes and sizes. Additionally, hours such as a "Funner Trivia," "Film Dub," and "Ammunition Hour," simultaneously showed the wide breadth that exists under the umbrella of "comedy," or "humor," and the level of pain that Liquid Funners were willing to inflict upon themselves for the sake of charity and some laughs.
This year, all the proceeds from the 24-hour marathon went to the Greater Boston Food Bank. "The group wanted to bring a bunch of comedy groups together for a big event, so directing their efforts towards an even greater cause came to them naturally. All Liquid Fun shows are free, but this show is the exception where we really encourage people to donate!" said Liquid Fun member Elizabeth Cross ( SAR 2015).
To encourage donations, Liquid Fun used multiple strategies. In addition to a suggested $5 donation, they had a dollar buy-in for a prize raffle, and prizes were given out to lucky winners at various intervals throughout the night.  Audience members also paid a dollar to vote for their Liquid Fun friends to perform such tasks as: "can only move with lunges," "constant jumping jacks," and  "applesauce/marshmellow mouth," during "Pain Prov" hour at 6 a.m.
Their efforts were successful. Last year, Liquid Fun raised over $500 through donations from friends.  This year, the group had raised over $400 by midnight, showing that its popularity and giving ability continue to grown as more and more BU members find out about Liquid Fun's wacky and well-intended project.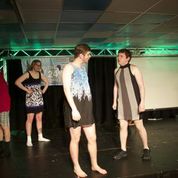 Wacky the night began and wacky it ended. Throughout the event, the improv members adopted all sorts of attitudes and whimsical characters. The ability to transform at will showed how much play is inherent to improv.
As the Marathon wore on, no matter how late the hour, how sparse the audience, or how tired they were, performers from all the comedy groups on campus continued to do improv, to play—with words, with personas, and with each other.
Elizabeth Cross summed it up perfectly: "The comedy crowd in Boston is great! There's a lot of talent out there, and the best thing is everyone is really supportive of each other! If you haven't made it to an improv show, or made a point to check out some college stand-up, go! You'll leave happier!"
The laughing audience indicated just that.