It is impossible to discuss modern electronic music without mentioning Aphex Twin (Richard D. James). The English producer's­­ importance to electronic music—and really, music in general—is impossible to overstate. He's been cited as an influence by the obvious (Daft Punk) and the not so obvious (Radiohead). His 1992 debut album Selected Ambient Works 84-92 helped define ambient electronic music, and he's probably the genre's most important artist (barring Brian Eno, anyway). That is crazy, considering that that record and its sequel are the only two Aphex Twin albums you can even call ambient.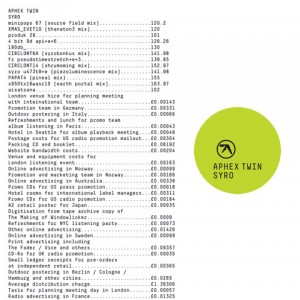 By nature, his music is hard to define. Though he despises the term, James helped create "intelligent dance music" with his appearance on the seminal Warp Records compilation Artificial Intelligence, but his music is as influenced by traditional house and techno as it is by more "serious" genres. He flirted with success in the late 90's, when single "Windowlicker" peaked at #16 on the British charts. In 2001, he released the glitchy, abrasive double album Drukqs.
But, aside from the Analord EP series and a handful of releases under various pseudonyms, James has remained quiet for over a decade.
Unsurprisingly, people got very excited when a blimp bearing Aphex Twin's logo appeared over London on August 14. Two days later, James took to the deep web to announce Syro, his first album in thirteen years.
Like most Aphex Twin albums, it sounds almost nothing like any of his previous material. The warmth of the record recalls the calm of Selected Ambient Works 84-92, but where that LP was sparse and measured, Syro is layered and hard to pin down. Opener "minipops 67 [120.2] [source field mix]" almost seems to wriggle along: burbling synths move in and out of the mix, all while the basic drum beat keeps everything in place. About 30 seconds into standout "XMAS_EVE10 [120][thanaton3 mix]," a funky bassline appears. Over the course of the next nine and a half minutes, the track moves through more sounds than I could accurately describe, before finally ending with (unmodulated) female vocals. But it never approaches the sort of abrasiveness you would expect from a 10-minute long Aphex Twin track.
That's probably the most defining part of this album. The guy known for embracing unreal sounding chaos has created something that sounds pleasant and welcoming. Some of the tracks on Syro are faster than others—both "CIRCLONT6A [141.98][syrobonkus mix] and "syro u473t8+e [141.98][piezoluminesence mix] contain the glitchy, broken machine sounds that have made James famous—but none of them are abrasive, and they all exude the warmth that characterizes this record.
Nothing exemplifies this warmth better than album closer "aisatsana [102]." Written for his wife, the minimalist piano track is an unabashedly beautiful and sentimental piece of music. It sounds like absolutely nothing in James' catalogue. Apparently, there is more to come from Aphex Twin in the future. If this album signals the direction James is moving in, then that future seems incredibly bright.