As a New Jersey-native who gets impatient after being stuck behind a slow walker on the sidewalk for too long, I've never been one for meditation. To be fair, I've never really known much about it. To me, it is a very exotic concept, and my meager attempts at sitting cross-legged on my bedroom floor reciting "um" to myself have proved ineffective.
Then I heard about "Silence Practice" at Marsh Chapel. It's an hour-long session where students can sit in absolute silence with their thoughts. Whether you stay for the whole hour or just a few minutes, the idea is to quiet your racing mind and put yourself at ease. Having no idea what to expect and being more than a little intrigued, I went to my first Silence Practice session this week.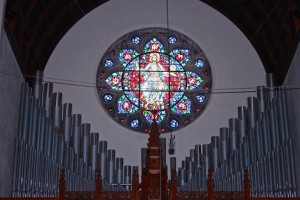 My roommate and I walked into an empty Marsh Chapel wondering how exactly to begin. After a few minutes of childishly giggling to ourselves and pointing out random decorations in the chapel (like a stained glass window depicting Abe Lincoln giving a speech), we eventually got into the swing of silence.
To be perfectly honest, I spent most of the time scrutinizing every intricate piece of woodwork and stained glass in the chapel, so I didn't feel much more relaxed after walking out. But it was nice to let myself get distracted by the chapel for a few minutes instead of worrying about classes and internships.
It's also worth noting that I had a particularly lazy morning leading up to Silence Practice–that was pretty much the first thing I did all day. Had I had one of my more hectic mornings, I think indulging in ten minutes of absolute silence would have been a much-appreciated break.
Though I think my wandering mind might require a type of meditation with a bit more structure to de-stress, Silence Practice is definitely a great way to treat yourself to just a few minutes of you-time.
As it turns out, BU actually has a myriad of opportunities for students seeking inner balance. Whether you're a seasoned yogi or a novice like myself, you have plenty of chances to try these mental (and, in some cases, physical) exercises on or around campus to put your mind at ease.
When: Every Thursday this semester at noon
Where: Marsh Chapel
Fee: FREE
Whether you have five minutes or you need an hour for all your midterm stress, sit in the calming silence of Marsh Chapel and unwind for a bit.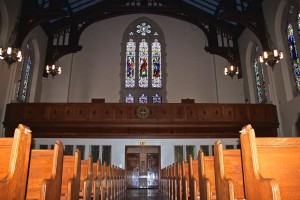 When: Every Monday this semester at noon
Where: Robinson Chapel, inside Marsh Chapel
Fee: FREE
Never meditated before? Take advantage of this free, guided meditation offered right on campus to learn the ropes and see if it's for you.
When: Every day, times vary
Where: Karma Yoga Studio, 971 Comm. Ave (3rd floor, above The Ring Boxing Club)
Fee: Donation-based
Karma Yoga features classes for all skill levels, so if you've never tried yoga before, a donation-based class that'll cost you no more than you want it to is a great way to see if you like it. The studio also offers sessions in quigong and Reiki, spiritual practices meant to eliminate stress and anxiety.
When: Class times vary
Where: FitRec
Fee: $17 for a single class card
Drop by FitRec for a single yoga class, a 10-class drop-in card, or an unlimited class card for a chance to try yoga right on campus–doesn't get much more convenient than that!
With the semester officially in full swing and midterms right around the corner, stress is leaving its visible mark on the harrowed faces of BU students up and down Comm. Ave. If your usual strategy for de-stressing is crying in a corner and hoping everything will work itself out, try one of these methods instead. For all you know, you could walk out with a mental clarity you never thought possible.
Good luck with your stress, and Namaste!