It's getting harder and harder for me to get excited about reunions. For whatever reason–the lucrative festival scene, the downfall of album sales as a viable way to make money, general nostalgia–just about every band one could possibly want to see has reunited in the last decade (except Jawbreaker!). Except for some notable exceptions (Outkast), most reunions elicit a collective "of course" or "I was wondering when this would happen." Reuniting is just sort of A Thing That Bands Do.
Even with all that, I was incredibly stoked when 90s shoegaze legends Slowdive announced they were reuniting in January for their first tour in 20 years. Originally together from 1989 to 1995, Slowdive played music that was equal parts shoegaze and dream pop, often sounding quiet and contemplative compared to bands like My Blood Valentine's roar. Their crowning achievement is 1993's Souvlaki, for my money the best album the original shoegaze scene ever produced.
Even so, I wasn't 100 percent sure what to expect from Slowdive when I walked into Royale last Sunday. I mean, this is a band that hasn't played in 20 years. Even taking into account all five members' level activity since the 1995 breakup (most notably, Neil Halstead and Rachel Goswell formed the folk influenced Mojave 3, though there are a litany of post-Slowdive projects), it seemed hard to predict how a band that hadn't been fully together since 1993 would sound.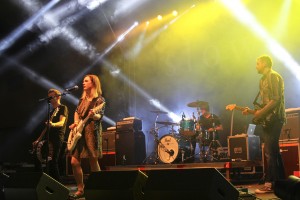 I guess I shouldn't have worried. Over the course of about an hour and a half, Slowdive put on a confident, incredibly enjoyable concert. It's easily the best reunion show I've ever seen, and it was one of the best shows I've ever been to, period.
Though they opened with a slew of songs from other albums, (including a lovely rendition of Pygmalion cut "Crazy for You"), nearly half of their set was made up of material from "Souvlaki." Which was totally fine by me. Goswell can still hit the effervescent highs on "Machine Gun" with ease, and the rest of the band hasn't lost a step either. It's really impressive when a band can get songs as layered as "Souvlaki Space Station" or "Allison" to sound not only great on stage, but to do it without sacrificing any of the complexity that made those songs a revelation in the first place. On Souvlaki standout "When the Sun Hits" (and a few others), the band had Goswell play a third guitar, and when that happened, oh man. It was like I had stepped into some kind of shoegaze and dream pop nirvana.When the band pared it down–as they did on a very spare version of "Dagger"–they were just as good.
And, contrary to their genre's name, the band did not spend the entire show staring at their shoes and/or effects pedals. While there wasn't exactly a ton of audience interaction during the show, the band was engaging when they needed to be, and they clearly enjoyed being there. That's such a little thing, but it really made a great show even better.
After closing their set with a lovely cover of Syd Barrett's "Golden Hair," the band came out for the requisite encore. They played a dense version of Pygmalion's "Rutti," before finishing up with "40 Days" off Souvlaki. They thanked the crowd, waved goodbye and walked off. It was a simple end to a very simple show. A great band playing great versions of their phenomenal music. I'm glad I got to see it.