Bayla Ostrach is comfortable in the hallway, she says, her small frame slumping to one side, trying to counterbalance the weight of a canvas bag bursting with textbooks and loose papers.
She is comfortable in a hallway, but would prefer an office. Something with four walls and a door. A place to hang her degrees: a bachelor's in English Literature, a master's in applied medical anthropology with integrated minors in public health, sociology, and women's studies. Her Pd.D in applied medical anthropology. A shelf for her books and a desk to hold framed pictures of her daughter. She would prefer an office, but she doesn't have one, so she will make-do with a hallway.
"I take what I can get wherever I can get it," she says settling in to a stained armchair against a wall in Boston University's College of Communication.
As an adjunct, or part-time, professor at BU, Ostrach's world is unpredictable at best. Her main appointment is on the medical campus, but depending on the availability of classes, the schedules of full-time professors, and student interest, her exact professional position is constantly in flux. She is an accomplished educator and multilingual activist assisting graduate students at a multimillion-dollar university. She is also a single mother receiving Medicaid and food stamps. "For me it's just a question of survival," she says. "Survival and respect."
Ostrach is just one of the 41 percent of professors on campus hired as adjunct faculty, a number considered modest due to the tangled web of titles given to part-time staff like "lecturer" or "contingent faculty" among others. These professors teach on a class-by-class basis. They have limited access to health benefits. They are paid a fraction of the rate of full-time, tenure-track professors, though—as in Ostrach's case—they often do the same amount of work.
As the adjunct action factsheet states, the average pay rate for an adjunct professor at BU is between $3,750 and $9,563 per standard three-credit course. This "market rate" is determined by the human resources department and adjusted based on factors such as class subject and enrollment numbers. For an adjunct teaching 12 courses a year at this rate—which Ostrach says is "an impossible amount of work"—the annual pay would be under $80,000. According to the American Association of University Professors, a full-time professor at BU earns an annual average of $122,200.
Most don't have office spaces and those that do may share the space with up to 20 other adjunct professors. Some aren't even listed in the BU directory. As Ostrach puts it, the adjunct professors at BU are an invisible workforce. But she hopes to change that.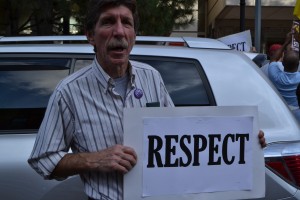 The Union
Throughout the Boston area, adjunct faculty have responded to unsatisfactory working conditions with a wave of unionization. With successful campaigns at Emerson College, Lesley University, and most recently, Northeastern University, the Service Employees International Union (SEIU) is helping part-time instructors collectively bargain for better pay, access to healthcare, and greater job security.
Ostrach is a committed leader within the SEIU's education project, Adjunct Action, and spends a lot of time talking to her coworkers about their experiences teaching at BU. "What we would really like to see is more continuity and stability," she says, "We're concerned that when an adjunct doesn't know the day before—or even after—the first class meeting if their class is going to go ahead, it's hard to expect someone to work for free," noting the amount of prep work and time that goes into every class they teach.
And while the issues brought up among the adjunct faculty are universally felt, the body of part-time faculty is complex and inconsistent. Janet Bailey, a MET professor and President of her own consulting practice, holds a full-time job outside of the university, but for many part-time instructors, teaching one or two classes at the average adjunct rate is not enough. A lot of teachers pick up courses at other institutions throughout the city, spreading themselves thin and eliminating time that could be spent holding office hours or talking with other part-time staff.
The union would seek to change that, as stated on the BU adjuncts website: "By forming a union of part-time faculty, we give testimony to the respect we have for each other: we are professionals committed to working together, helping the University, and advancing our shared mission in education," emphasizing the need for cooperation in a field known for its lack of continuity.
The Rumors
When whispers of unionization became audible the summer of 2014, the administration at BU created a website dedicated to informing the part-time faculty about their rights at the university. While many proponents of the SEIU declared the site to be "union-busting" and "decidedly anti-union," the administration brought up some perceived fears associated with unionizing.
The main concern was the notion of a single voice for a diverse collection of people. The union works democratically, so if a union representative is elected by the majority, that representative is then the sole voice for the entire body. According to adjunctaction.org, members must pay dues of about 1.6 percent of their gross salary after the first successful negotiation.
Another point of contention the administration's website raises is re-election. The "Frequently Asked Questions" section of the part-time faculty site notes that, "unions do not stand for re-election" meaning that once a union is in place, the decision is binding.
Despite the fears about a part-time faculty union at BU, a recent study by Kent State University investigating unionization's impact on university performance found that unionization is good for universities. Mark K. Cassell, an adjunct professor at Kent State and the lead author of the paper, wrote that on average, unions cut down on universities' costs and have an overall positive effect on the number of degrees schools hand out, including a near 1 percent increase in the graduation rate. Ultimately, the study determined that unionization is beneficial for not just the professors, but the university as a whole.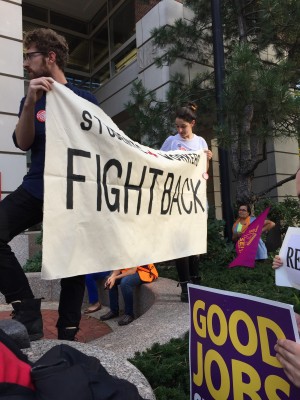 The Students
John Griese ('15 ENG) is the president of the Student Labor Action Project (SLAP) at BU and has been working closely with the adjunct professors in an effort to bridge the gap between students and instructors. The way he sees it, adjunct professors represent what awaits many students after graduation. "I think what resonates with us is that a lot of these adjunct faculty are saddled with the same student debts that we have," Griese says. "Many of them are young people, many of them are recent college graduates themselves."
For a lot of the part-time faculty, the dream of becoming a tenured professor at a well-respected university is disappearing as the market shifts toward hiring "contingent faculty." But as tuition rates continue to skyrocket, students are left wondering where their money is going if not to their professors.
According to Cassell, tuition dollars are not being appropriately distributed. His study found that between 1975 and 2005, the number of faculty grew by 51 percent while the number of administrators and administrative staffers grew 85 percent and 240 percent respectively. An increase in administrators, who are typically paid well above the average faculty member nationally, therefore causes university "budget bloating." According to data from BU's IRS 990 forms submitted for the year 2012, University Provost Dr. Jean Morrison was paid $749,523—more than 5 times the average salary of a full-time tenured professor at BU. Cassell's results suggest that when professors unionize, universities emphasize instruction over administration. So while critics of unionization often claim raises for adjunct professors will mean tuition increases, Cassell has found that spending less on administrative staff would cover all costs without asking more from students.
"We think that by having a union, there would be a system of checks and balances," Ostrach says. "We would be able to look at administrative spending and say how much of the budget is going to classrooms versus other costs."
The University
BU, for its part, has not been completely silent on the matter. In response to adjunct complaints, the provost established the Part-Time Faculty Working Group (PTFWG) made up of members of the administration, part-time faculty workers, and full-time instructors. The group met in January to discuss issues brought up by part-time faculty and then presented their findings in a report to Morrison in February. Dr. Julie Sandell, the associate provost for faculty and Chair of the PTFWG, says she does not see the working group as an alternative to the union, and insists that the two serve different functions.
"A working group is much more free form," she says. "It is much more of a collaborative exchange with the administration whereas, if a union is in place then that is the voice of the faculty and, in most situations, that is more adversarial."
Sandell says that the recommendations proposed by the PTFWG have addressed many of the problems felt by the part-time faculty at BU and adds that the administration has been cooperative in working to solve these problems. Since the inception of the working group, 30% of the adjunct professors have been granted more job stability in the form of two-semester contracts, and she says she hopes this number will grow over time.
Nevertheless, Sandell recognizes that a problem does persist. "I think that part time faculty are no different than any other faculty in wanting to be respected for the professionals that they are," she says. "Absolutely we have heard isolated incidents where I think they have not been treated with that respect and that's one thing we've tried to address through our recommendations."
Despite the recommendations of the working group, the tide in Boston is leaning heavily towards unionization for adjunct professors. At Tufts University, where professors unionized in 2013, a new contract negotiation has granted most part-time professors a 22 percent pay raise and improved job security in addition to several other benefits. At BU alone, more than four rallies have been held across campus for unionization, complete with impassioned speeches by students and professors. As of October 29, the adjunct faculty at BU have filed for an election with the National Labor Relations Board to decide whether or not to unionize. The "invisible workforce" has picked up a megaphone and is making itself heard.
As Ostrach puts it, "we could wait forever for the administration to decide to prioritize 41 percent of the faculty, or we can do what we need to do to have a voice at the table and provide our students with the best education. So let's do it."