Public restrooms are already gross, but can you imagine having to pay to use one? The nightmare is the reality in Greg Kotis's Urinetown.
While the name Urinetown isn't overtly inviting, this musical is exciting, funny, and just the right amount of crude. Urinetown depicts a world that is suffering from a severe water shortage, where the idea of a private bathroom is inconceivable. The private organization "Urine Good Company," owned and managed by Caldwell B. Cladwell, handles all of the citizens' bathroom needs- for a fee. The company's power is demonstrated during the opening scene, when Joseph "Old Man" Strong decides he can't hold it any longer and pees in the street. The old man is taken to the fabled Urinetown, and never heard from again.
Joseph Strong is survived by his son, Bobby Strong, who soon after his father's death falls in love with Hope Cladwell, daughter of Caldwell B. Cladwell. Bobby decides to follow his heart and starts a revolution targeting the Urine Good Company and demanding the freedom to pee.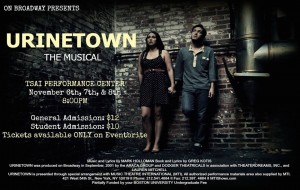 BU On Broadway's production of Urinetown opens this weekend and runs November 6-8. The show is directed by Amir Feinberg, a first-time mainstage director. Feinberg and his cast have been working tirelessly on putting this show together, and their work is going to pay off this weekend.
"The most rewarding moment about putting on a show is seeing all of your hard work actually come to fruition," said Feinberg.
While assembling a musical is a daunting task, Feinberg ensures that his actors and crew are not over-worked. Between memorizing lines, plucking out notes, and learning choreography, the cast and crew still find time for their academics.
"Everyone that is involved with this show is a student first. We are all Boston University students who just love doing theater. This cast and crew are so diverse and we all want to put on the most professional show possible. Every night we put away our homework for a few hours and put our all into rehearsal. It really is amazing to what we can create," he said.
Urinetown is an extremely abstract show, which means it can be interpreted in many different ways. The fun thing about it is that you can take away from it something entirely different from the person sitting next to you.
"I want the audience to leave the theater thinking," said Feinberg. "Every time I watch a full run of the show, I find new meaning and new purpose behind the production. If the audience leaves the theater with more questions than answers, then I have done my job."
Tickets are only $10 for students and $12 general admission (and it's not like you have to pay to pee), so be sure to get yours soon. Make sure to come down to the Tsai Performance Center this weekend."Urine" for a treat!