Bare-all sex education expert Laci Green visited BU on Thursday to share her secret for the "best sex ever." Her perspective on sex and sex education is unconventional, but informative and often entertaining.
Green is a 25-year-old "sexpert" who got her start making YouTube videos about sex. As her shows became increasingly popular, Green developed the YouTube channel "Sex+" and now appears on MTV's "Braless." Her upbeat approach to sex is a refreshing change from typical sex education. She covers topics ranging from sexuality, to sex toys, to assault and safety, which are often overlooked in high school health classes.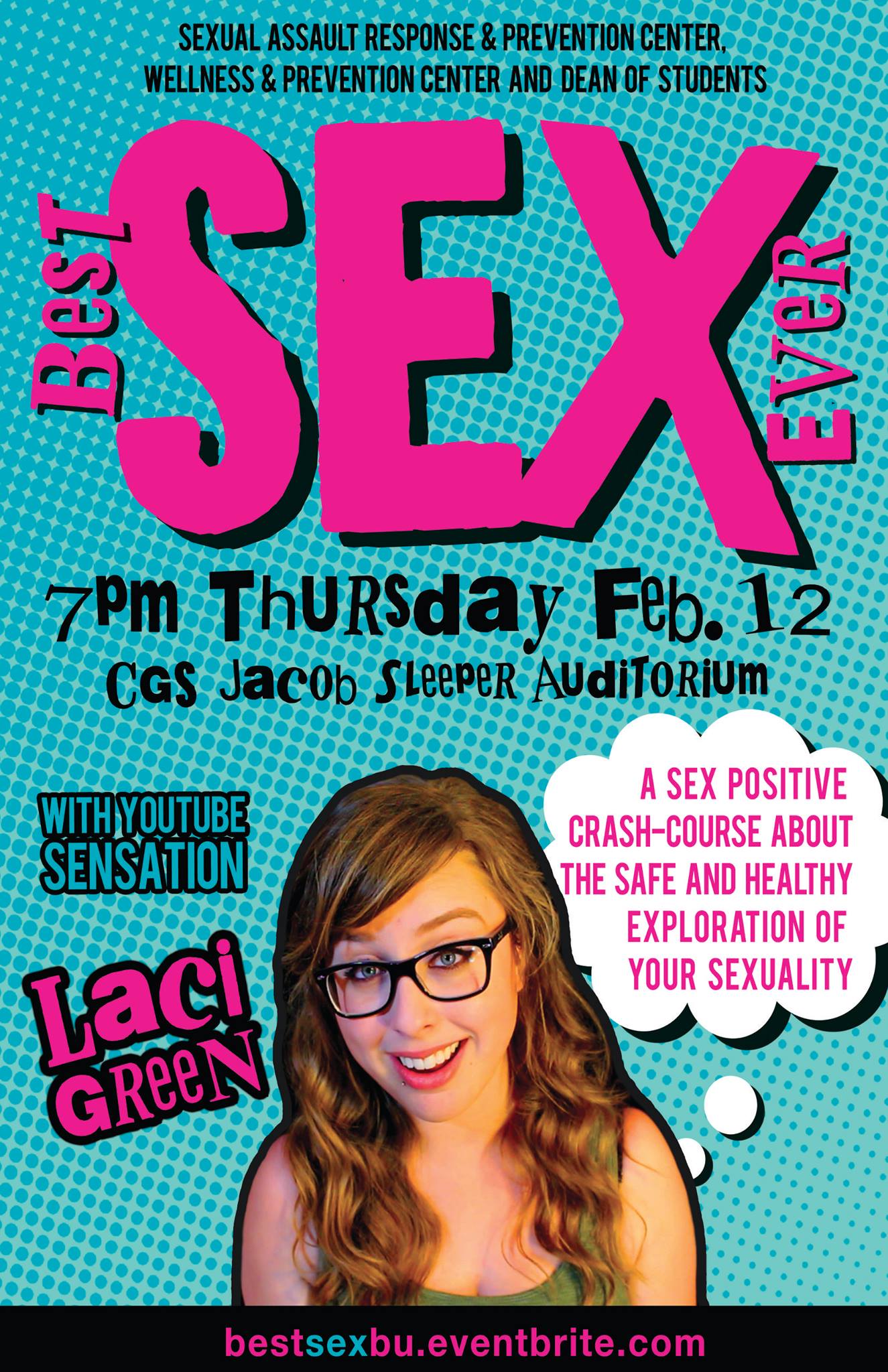 "Our high school sex ed was only based on puberty, not sex or how to be safe about sex," says Laura Stanton (CAS '18), who attended Green's talk. "Laci explained sex in a way that was accessible and realistic, which is really important."
Green talked about the most common STDs- chlamydia, gonorrhea, genital warts, herpes and HIV/AIDS- and the best ways to prevent them. She emphasized the importance of using protection (i.e. male and female condoms, rubber gloves, dental dams and finger condoms), getting tested every time you switch partners, and getting vaccinated. In her classically blunt style, Green told the audience, "cancer, measles, plague- no one wants that shit! Why are we trying to bring it back? Get vaccinated!"
Consent was another hot topic during Green's show. Green reinforced that consent must be verbal and genuine, and cannot be attained from someone who is drunk, asleep, or does not clearly say yes or no.
"Consent is about communication," Green said.
Green's presentation was received very well by the student audience. After the presentation, BU student Stephen Vocaturo (COM '18) said, "Laci helped me solidify my feelings regarding the importance of protection and mutual consent. I loved how fearless and open her presentation was. It was really refreshing."
Sex ed can be an uncomfortable topic to discuss, but it is extremely important to both physical and mental health. Laci Green is more than a YouTube sensation; her offbeat approach to sex is inspirational, and perhaps something that more colleges should be trying to imitate.
At the end of her presentation Laci reviewed her main points: always get consent, respect you partner, relax, and enjoy yourself.
"Mix it all together and you've got the recipe for the Best Sex Ever. Results may vary."